Suara.com – The achievements of Veda Ega Pratama, Astra Honda Racing Team racer and coach of PT Astra Honda Motor, are no joke. This 15 year old rider from Gunungkidul, Yogyakarta made history as the record scorer for collecting the most points during the Idemitsu Asia Talent Cup (IATC) since it was first held in 2015.
Quoted from the official release of PT Astra Honda Motor as received by Suara.com, competing approximately two years ago, for the 2023 season Veda Ega Pratama recorded nine wins, which is the most wins in this Asian talent racing event. Namely the clean sweep of first place in two races in one racing series, which he achieved twice. Each at the Motegi Circuit, Japan, Mandalika Circuit, Indonesia, and Losail, Qatar. Then once on the first podium in one series, respectively at the Sepang Circuit, Malaysia, and Buriram, Thailand.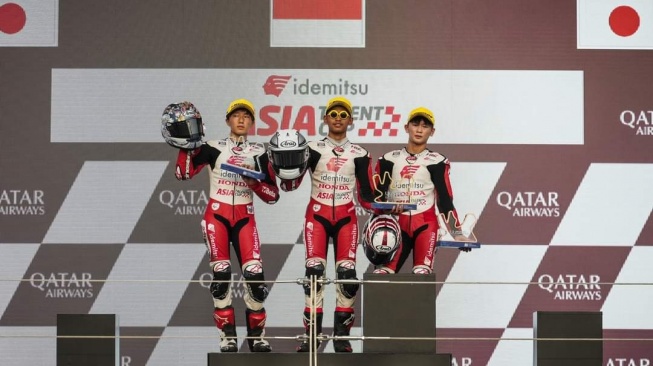 Veda Ega Pratama (center), flanked by two Japanese riders. Veda successfully won Race 1 and Race 2 IATC 2023 Losail, Qatar (PT AHM)
"Thank you for the support and prayers for the struggle carried out by our riders in the Asia Talent Cup. "Through the One Heart spirit, we believe that the historic achievements achieved by Veda are a big motivation for us to continue to develop potential young racers in the country to achieve their dreams of competing in the highest racing events," said Andy Wijaya, General Manager Marketing Planning and Analysis of PT Astra. Honda Motor (AHM).
He added that Veda Ega Pratama's historical achievements were the result of consistent training and hard work of racers. Hopefully this achievement can be a positive inspiration for Indonesia and especially the world of racing in Indonesia.
In this year's final match, at the Losail International Circuit, Qatar, which took place last week (18-19/11/2023), Veda Ega Pratama took pole position or first position based on the qualifying results on Saturday (18/11/2023). There was a siege by riders from other countries, unavoidable overtakes, and the incident of the front group rider falling at the last corner colored the course of the race. However, he was able to make good use of the complicated situation at the end of the race with his flagship Honda NSF250R and took first place.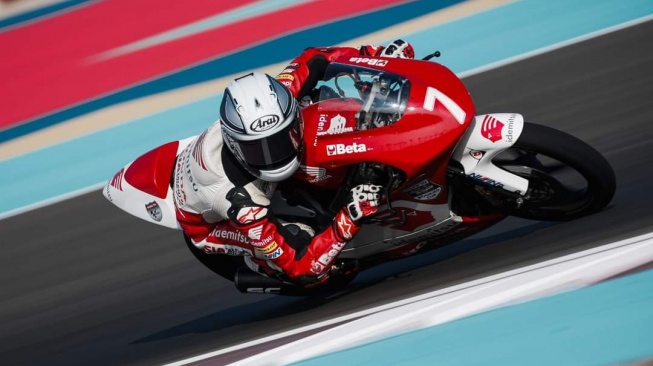 Veda Ega Pratama in action (PT AHM)
The second day of racing, Sunday (19/11/2023) was no less challenging, because his rivals continued to apply pressure which made him have to focus without making mistakes. He also won in Race 2.
"Thank God, I managed to win in the two races of the IATC final series. It was a difficult race because the riders in the front group kept trying to take the leading position. But I was able to maintain my composure until I finally finished first," said the rider, who will turn 15 on November 23.
"I dedicate this victory to the Indonesian people to close IATC 2023. Thank you to PT Astra Honda Motor for its support to me in the two years of my participation in IATC, my parents, and of course the entire Indonesian people who always support me. Hopefully I can continue to excel for Indonesia in the international racing arena," he continued.
Meanwhile, Veda Ega Pratama's AHRT racing partner, Chessy Meilandri, ended the race in 14th position in Race 1, and 15th position in Race 2. The result in the closing rider standings was 13th place with a collection of 41 points. Meanwhile, Reykat Yusuf Fadillah is still in the process of recovering from a shoulder injury so he is absent, and is ranked 14th with 38 points.