The duels in El Rosco are getting more exciting with each program. Óscar arrived at the test with a significant difference of seconds in his favor, setting his best mark in Pasapalabra with 88, but it was Moisés who set the bar for the afternoon by achieving 22 hits.
Equality has been the tone of this new confrontation, the 39th between the two, from the beginning. No one has escaped this time on the scoreboard and they have seen how the tie was constantly repeated during El Rosco: with 7 hits, with 14 and with 18.
With a jackpot of 1,126,000 euros at stake, neither of them have made mistakes. For this reason, tension has been growing and uncertainty has remained until the last moment. The strategy has been key: Moisés, upon reaching 22 letters, has chosen to stand. Óscar, still at 19, has played the comeback. Discover in the video which way the balance has tipped this time in El Rosco!
Furthermore, in this program one of the most romantic moments remembered in Pasapalabra has been experienced. Ana Guerra has proposed to Víctor Elías by singing in his ear and making an unexpected declaration of love.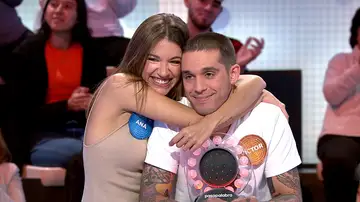 The couple, who announced their engagement just two weeks ago, have shown how in love they are. "I no longer have to look for a visa because I have my dream there," said the singer.