Laura Pausini has visited El Hormiguero to present her new project, the album titled Almas Paralelas. The singer who has been awarded Person of the Year at the Latin Grammys has been enthusiastic about the award and the support of her professional colleagues.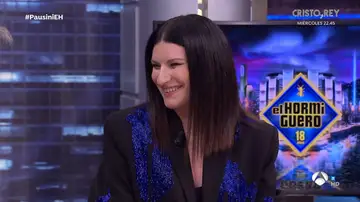 The guest told Pablo Motos what her wedding with Paolo Carta was like after 18 years of love and a daughter together. In March, the singer and her partner said 'I do' and celebrated with the family by telling them that it was to celebrate the 30th anniversary of Laura Pausini's career.
The singer has assured that after 18 years, she is still very much in love with Paolo. "Not even my daughter knew, we bought the dress online," Laura Pausini revealed about the secrecy she has maintained regarding her marriage to the father of her daughter.
The Italian wanted to give all the details of the wedding day with Paolo to the surprise of her entire family. "Seeing everyone's crying faces has been a wonderful feeling and we have sung our promises," said the guest of El Hormiguero.