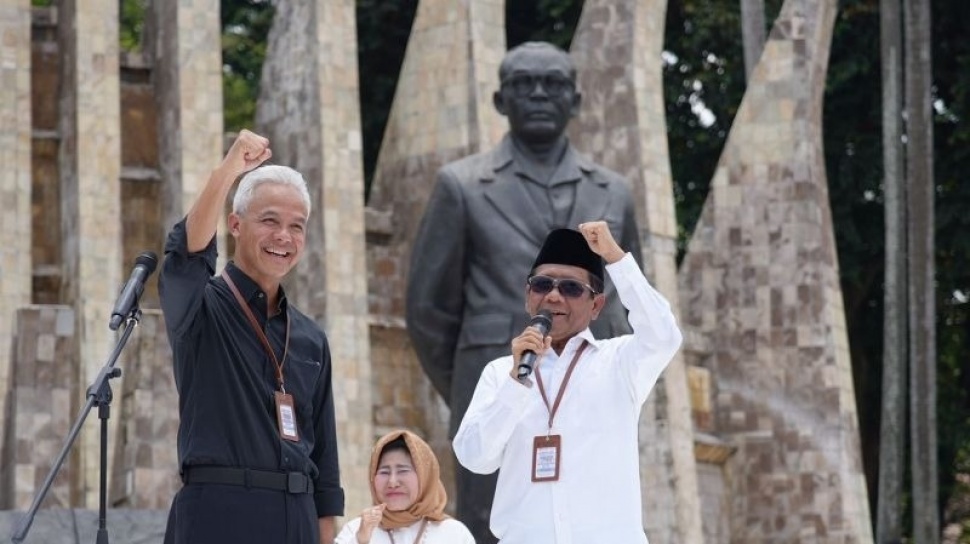 Suara.com – Presidential candidate Ganjar Pranowo who is paired with Mahfud MD in the 2024 Presidential Election (Pilpres) is considered to be able to restore public confidence in the judiciary.
According to University of Pelita Harapan (UPH) political communication expert Emrus Sihombing, Ganjar is committed to improving law enforcement in the country.
"Ganjar has a political commitment in the legal sector. I think Ganjar will give these tasks to Mahfud MD," he said in a written statement in Jakarta, Monday (20/11/2023).
Emrus conveyed this belief by looking at the track record of Mahfud MD, who currently serves as Coordinating Minister for Politics, Law and Security (Menkopolhukam). Apart from that, Mahfud MD also served as Chairman of the Constitutional Court (MK) for the 2008–2013 period.
"I believe Ganjar Pranowo will fully rely on Mahfud to restore public trust in the judiciary," he said.
Regarding the opinion that the vice president is always a spare tire, Emrus believes that Ganjar will not apply the same thing to Mahfud MD.
According to him, Ganjar is not the typical 'one man show' politician who likes to handle all matters alone.
"He (Ganjar) is a person who works in a team. He did that when he was in the DPR and when he was governor," he said.
He also saw that Mahfud's big role in the government was implied by the statement by PDI-P General Chair Megawati Soekarnoputri.
In fact, when declaring the Ganjar-Mahfud pair, Megawati advised Mahfud to improve the legal sector if elected in the 2024 presidential election.
Mahfud himself routinely highlights the weakness of law enforcement in contemporary Indonesia.
In fact, on various occasions, he also said that half of the nation's problems would be resolved if the law could be implemented as fairly as possible without manipulation.
"If you want to save the nation, the law must be enforced properly. 50 percent of the nation's problems are resolved. Uphold the constitution, uphold the law," said Mahfud in a socialization moment in Madura, Saturday (18/11/2024). (Between)