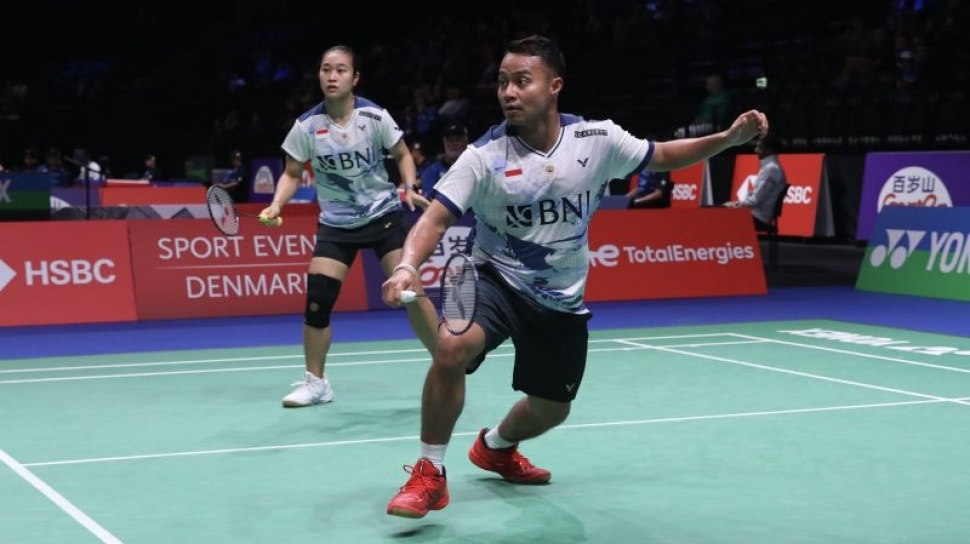 Suara.com – The Indonesian mixed doubles struggle of Rehan Naufal Kusharjanto/Lisa Ayu Kusumawati stopped in the first round of the badminton individual event at the 2022 Hangzhou Asian Games, Monday (2/10/2023).
This followed the defeat of the Rehan/Lisa pair to the Chinese Taipei pair Ye Hong Wei/Lee Chia Hsin in two straight games 13-21, 20-22.
In the first game, the Indonesian pair were ahead on several points, including 5-3 and won the first game interval 11-6. The Ye/Lee pair seemed able to handle the pressure by patiently collecting point after point until Rehan/Lisa were unable to move from the 13th point, and the opponent ended up winning the first game with a score of 13-21.
In the second game, Rehan/Lisa tried to recover from the pressure and control the game. The Indonesian pair took the lead at the start of the match with a score of 5-2, however, their opponents tried to catch up with them by being more patient and focused.
Also read: Who are the Indonesian national team's overseas players who will strengthen the Indonesian national team against Brunei Darussalam?
Rehan/Lisa also took the lead again at several critical points, including leading with a score of 16-12, although the Ye/Lee pair managed to catch up point by point until they finally equalized.
The match was tough. After a long rally to fight for match point, Rehan/Lisa managed to achieve it with a narrow lead of 20-19, before finally deuce occurred and increased the tension in the second game which determined whether the rubber game would take place or not.
The second match point was won by the Chinese Taipei pair and Rehan's shuttlecock was declared to be the winner with a score of 20-22.
There were three Indonesian representatives competing on the first day of today's individual badminton event.
Apart from Rehan/Lisa, there is another mixed doubles, namely Rinov Rivaldy/Pitha Haningtyas Mentari who managed to advance to the round of 16 after winning over South Korean representatives Kim Won Ho/Jeong Na Eun via rubber game, with a score of 21-15, 16-21, 21-19,
Also Read: Indonesian U-17 National Team Shifts Training Location from Monchengladbach to Dortmund Germany
Next, there is men's doubles Leo Rolly Carnando/Daniel Marthin who meet representatives of Macau, Leong Iok Chong/Vong Kok Weng in the round of 32. (Between)