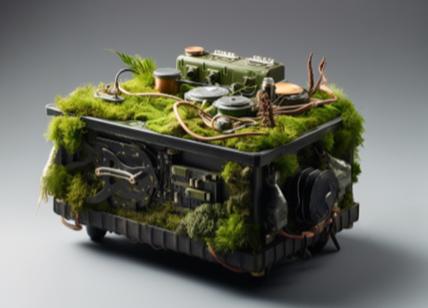 edible battery made of algae
The first edible and rechargeable battery is born in Italy, made with algae, gold and almonds
The ingredients would seem to come directly from a high-class sushi menu, but instead the IIt, Italian Institute of Technology in Milan, has thought well of using algae, almonds and gold to create the first edible and rechargeable battery in the world. This is an example of edible electronics, a scientific field that promises to have a major impact on the future.
In the heart of the Italian Institute of Technology (IIT) in Milan, a team of scientists led by Mario Caironi has taken an epochal step by creating the first edible battery. But this creation is not destined to end up on the plate, but rather is the result of collaboration with EnergRed, an ESCo company. committed to the energy transition of small and medium-sized Italian companies, and promises to change the face of sustainable energy.
The new power battery is an engineering marvel, based on innovative components such as the riboflavin, better known as vitamin B2, which acts as an anode, and quercetin, present in almonds and capers, which acts as a cathode. To improve electrical conductivity, the team used activated carbon, a common over-the-counter drug, while the electrolyte of this prototype is water-based.
But the real innovation lies in the details: the separator, essential to avoid short circuits, it was created using nori seaweed, often used in the preparation of sushi. The electrodes were ingeniously encapsulated in blocks of beeswax from which protrude two contacts made of edible gold, the same precious metal used to decorate special cakes.
READ ALSO: Electric mobility: the "secret" for recharging batteries faster has been discovered
Moreno Scarchini, CEO of EnergRed, says: "This battery proves that it is possible to make batteries with safer and more environmentally friendly materials than current lithium-ion-based ones. We believe that this innovation —although currently more media-driven than effective (it works at low power)— will inspire other scientists to build safer batteries, for a truly sustainable future."
But EnergRed's ambitions don't stop there. Based on data from the Italian Alliance for Sustainable Development (ASviS), Bloomberg NEF data and the report "The Future of European Renewable Energy" promoted by Panasonic, the company has drawn a bold map of renewable energy sources. According to their projections, Europe will be the undisputed leader in the sector, with a share of 86% in 2050.
In the years to come, energy from renewable sources will grow exponentially in Europe, far outpacing other regions of the world. In second place in the EnergRed ranking we find Australia with 80%, followed by India at 57%. China stands at 49%, while the United States is at 36%.
In a world looking for ecological solutions, EnergRed is leading the way towards a greener and more sustainable futurewith a bold vision and impressive innovation in food batteries.
READ ALSO: Enel X, with MIDAC for a lithium battery recycling plant
Subscribe to the newsletter