Suara.com – Minister of Agriculture (Mentan) Syahrul Yasin Limpo appointed Lesti Kejora to be the Millennial Farmer Ambassador. The Ministry of Agriculture (Kementan) has its own reasons for choosing Lesti as the ambassador.
Ministry of Agriculture Public Relations Officer, Agung, revealed that Lesti could be an inspiration for young people in terms of farming. Moreover, the dangdut singer often shows his family's activities in the agricultural sector.
"So it is hoped that this activity will attract young millennials to love and support Indonesian agriculture. Even Lesti herself was very moved, and said that when her parents returned to their village they would still be in the rice fields," said Agung in his official statement, quoted Monday (25/ 9/2023).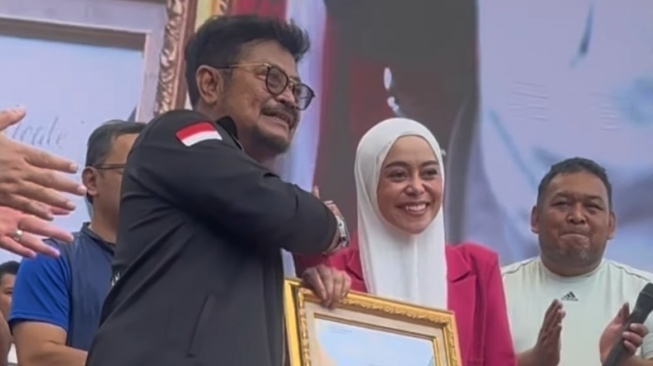 Lesti Kejora appointed as agricultural ambassador (Instagram/@kementrianpertanian)
With the coronation of the Millennial Farmer Ambassador, Lesti hopes that the Ministry of Agriculture can become a figure for the younger generation who does not forget the services of farmers.
Also Read: 70 Hectares Experience Drought, Directorate General of PSP Immediately Deploys Team to Central Lombok
"Lesti, who has a background as a farming family, can also campaign about the farming profession and the world of agriculture. We have many other millennial farmer ambassadors who are also inspiring," he said.
Minister of Agriculture Syahrul appointed Lesti as Millennial Farmer Ambassador directly in the form of a certificate. Agung said that the Ministry of Agriculture had confirmed around 2 thousand Millennial Farmer Ambassadors and Mainstay Farmer Ambassadors (DPA).
"These Millennial Farmer Ambassadors have diverse backgrounds. Many of them are successful and successful young farmers," he explained.
Disclaimer: This article is a collaboration between Suara.com and Warta Ekonomi. Matters related to the entire content of the article are the responsibility of Warta Ekonomi.
Also Read: Lesti Kejora Appointed as Farmer Ambassador, Netizens Call Melody Laksani More Appropriate