Kawasaki puts its first foot into electric and does it in its own way, with a bike dedicated to fun riding and with the easily recognizable lines of the Z family. We tested it in busy Paris
September 23, 2023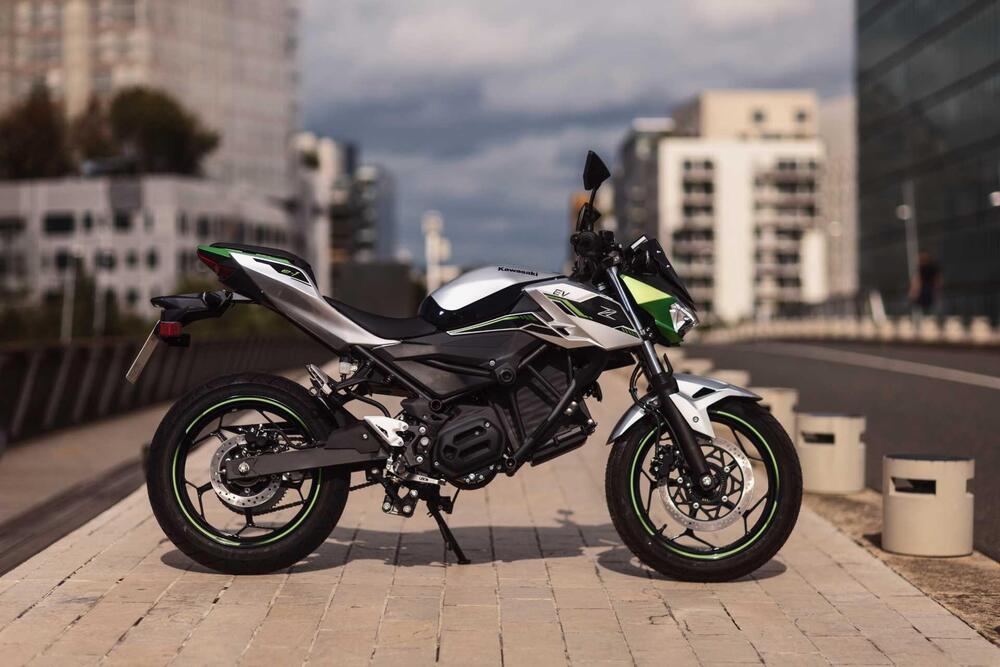 The first Japanese company to break the electric motorcycle taboo is Kawasaki. I have already told you the technical data sheet and details of the Z e-1, the first electron naked bike from Akashi which arrives on our market together with its faired sister Ninja from which, however, it does not differ in terms of technical basis. The only differences are in the superstructures and a slightly different calibration of the fork. A few days after their announcement, here I am in Paris armed with curiosity to preview the naked version, the Z e-1.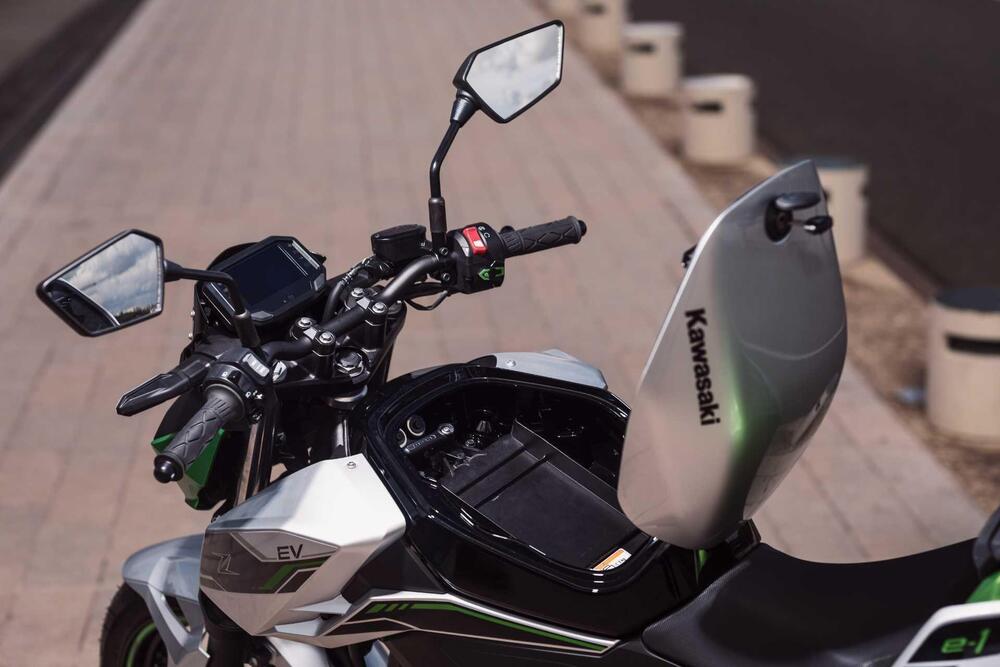 Under the sign of Z

You look at it and it is unquestionably a Kawasaki Z. For his debut, in Akashi they didn't want to overdo it but to offer us concreteness and reassurance. At first glance, in fact, it looks like a Z 400 in all respects except that instead of the engine you can see the battery pack. Compared to its endothermic sister, changes have been made that are practically impossible to decipher with the naked eye. The frame is apparently the same, in reality they tell us it has been specially redone with specific attachments but with unchanged geometries. This was possible because the technicians worked to have the same weight distribution. Now I'm not able to say whether they succeeded on the gram, but the first few meters on the Z e-1 gives me the sensation of being on a "very normal" Z. Except that here there is neither clutch nor gearbox, but only a throttle that responds reactively and very willingly despite the technical data sheet telling me that there is only 5 kW. Yes, the power… Let's face the question straight away: 5 kW – although electric and with an excellent torque of 40 Nm – is not much. However, in traffic and in the narrowest streets of the city they are sufficient. When the road opens up and we have the opportunity to overtake we can press the e-Boost button on the right block and practically double the cavalry. We reach 9 kW which we can squeeze out for up to fifteen seconds. The dashboard shows us in a graph a sort of Kers that is running out. If we don't use all the energy available by releasing the throttle early, we can reactivate the e-Boost even a few seconds later. Otherwise if we squeeze it all in theory we have to wait a minute and a half. I say in theory because the impression is that you recover faster.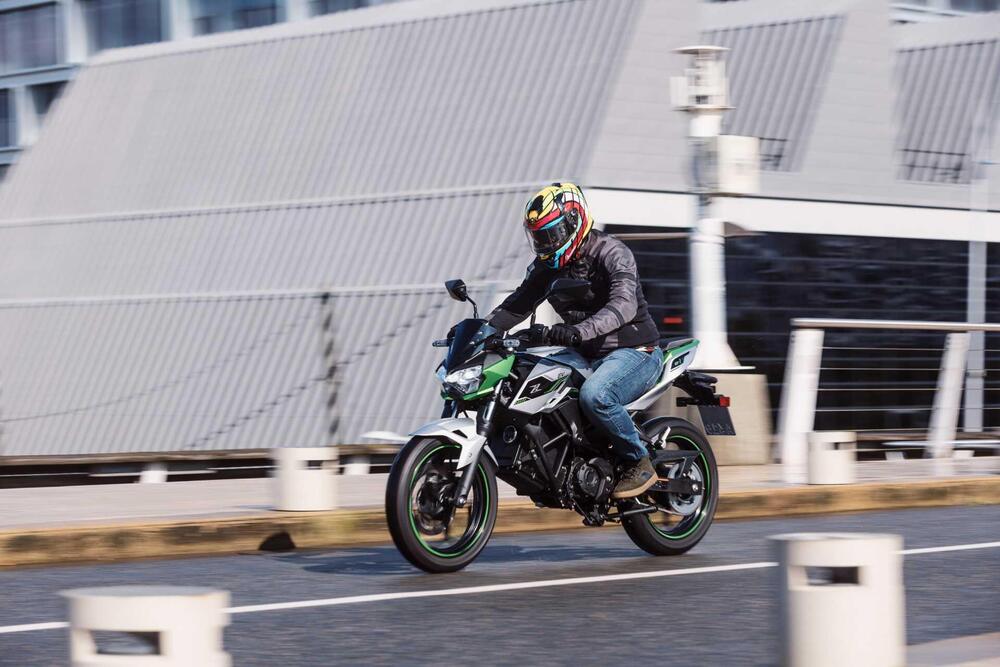 Real chassis, just enough autonomy

In traffic we can therefore do just fine with what we have available, but as soon as we have a clear road we realize how the healthy, quick and precise chassis deserves a little more horsepower. The brakes also behave perfectly thanks to theABS, not at all trivial equipment since we're basically talking about a 125. The fun, however, must last about seventy kilometers, no more, unless you want to recharge halfway. In that case, However, we have to carry the charger with us which, although not particularly bulky or heavy, still represents a nuisance. On the other hand, we find the idea of ​​two batteries mounted in parallel which can be charged both on the motorbike and separately at home to be good. The choice not to have a super battery but two such compact units connected in parallel it allowed us to contain the weights (22 kg in total) as well as giving us the possibility of putting on and removing the "bricks" and having shorter charging times. As is easy to imagine, however, autonomy is limited. The 72 km declared with the WMTP cycle seemed true to us but they remain very little. They are sufficient for getting around the city, but they don't leave much room for tourist ambitions unless you arm yourself with a charger and patience. Noting the real consumption during the tour in Paris, we think that with a 5 kWh battery we would have reached that 100 km target which would certainly have sounded better as a business card.
In conclusion

The new Kawasaki Z e-1 seemed to us a well made motorbike and with a satisfactory equipment with the small flaw of presa USB disponibile in optional and not standard. Compared to the average of the competition in this segment electric and 125 can boast a more refined chassis and riding dynamics that take advantage of Kawasaki's know-how. It also inherits style and good reputation from the brand as well as a sales and assistance network that gives us peace of mind. As emerged, the weak points are a power and autonomy that exceeds the sufficiency for the urban destination of this bike but which inevitably do not leave us thrilled.
The arrival at Kawasaki dealers is expected between October and November while the price has not yet been made official but it should be between 7,500 and 8,500 euros. An important price on an absolute scale, but relatively cheap if we talk about electric. On the other hand, if at this moment we are looking for a battery-powered 125 that can be ridden like a real motorbike, the field narrows down a lot and the cost-benefit ratio becomes interesting.
Pros and cons

Pro

It's a Kawasaki! Starting point Cycling
Against

Optional "off" board battery charger and USB socket Limited autonomy Instead of e-boost, we would always prefer a power of 7 kW
Kawasaki Z e-1, the first Japanese electric car. Here's our test! (VIDEO)