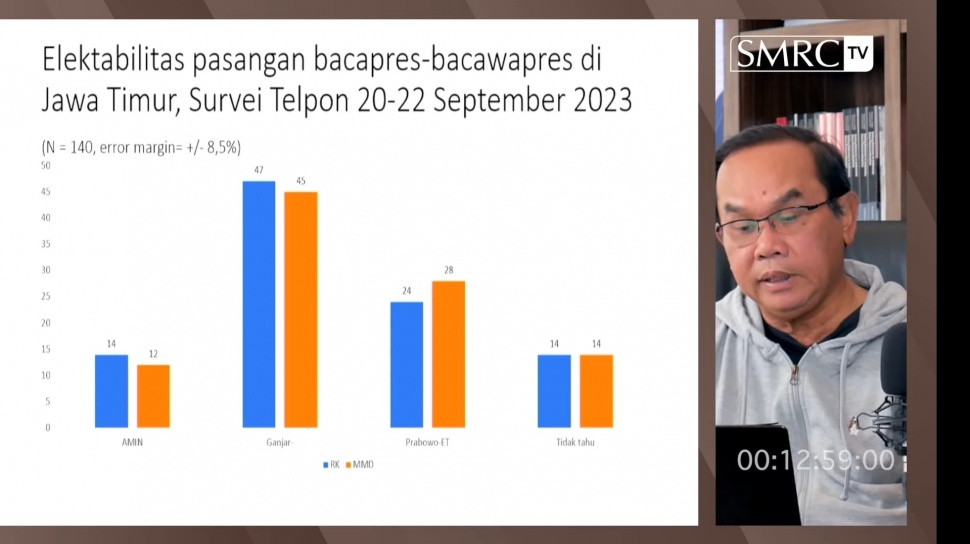 Suara.com – Saiful Mujani Research and Consulting (SMRC) released the results of the latest survey regarding the electability of presidential and vice presidential candidates in the East Java region. The result was that the pair Ganjar Pranowo – Mahfud MD was superior to Prabowo Subianto Erick Thohir and Anies Baswedan – Muhaimin Iskandar or Cak Imin.
SMRC founder Saiful Mujani said the Ganjar – Mahfud pair was ahead with around 45 percent of the vote. Meanwhile, Anies-Cak Imin only got 12 percent and Prabowo-Erick 28 percent.
"In the format of the Anies-Muhaimin vs Ganjar – Mahfud vs Prabowo-Erick pair in East Java, the Anies-Muhaimin pair received 12 percent of the vote, Ganjar-Mahfud 45 percent, Prabowo-Erick 28 percent, and 14 percent did not answer," Saiful was quoted as saying. from YouTube SMRC TV, Thursday (28/9/2023).
SMRC also carried out a simulation by pairing Ganjar-Ridwan Kamil against Prabowo-Erick and Anies-Cak Imin. In this simulation, Ganjar-Ridwan Kamil won by getting 47 percent of the vote.
Also Read: Political Safari to Banyuwangi, Anies-Cak Imin Are Sure to Get Lots of Votes
"Anies-Muhaimin received 14 percent support, Ganjar-RK 47 percent, Prabowo-Erick 24 percent, and 14 percent did not answer," said Saiful.
Based on the survey results, Saiful concluded that the Anies-Cak Imin pair did not experience significant progress after being declared as vice presidential candidate and vice presidential candidate. Specifically related to vote acquisition in East Java.
"It may take longer to campaign for Amin's partner. "At least until this last survey we have not seen any positive developments regarding this pair," he said.
This SMRC survey was conducted on Indonesian citizens in East Java who were aged 17 years and over or were married and had a telephone. The survey covers 80 percent of the total population of East Java.
The sample selection was carried out using the random digit dialing or RDD method. A total of 140 respondents were selected through a random telephone number generation process, validated and screened.
Also Read: Meet People with Disabilities, Ganjar Reveals His Ideas About Job Opportunities and Preparing Inclusive Schools
Saiful claims the survey's margin of error is estimated at 8.5 percent and the confidence level is 95 percent. Meanwhile, the interview process for respondents was carried out from 20 to 22 September 2023 by telephone by trained interviewers.