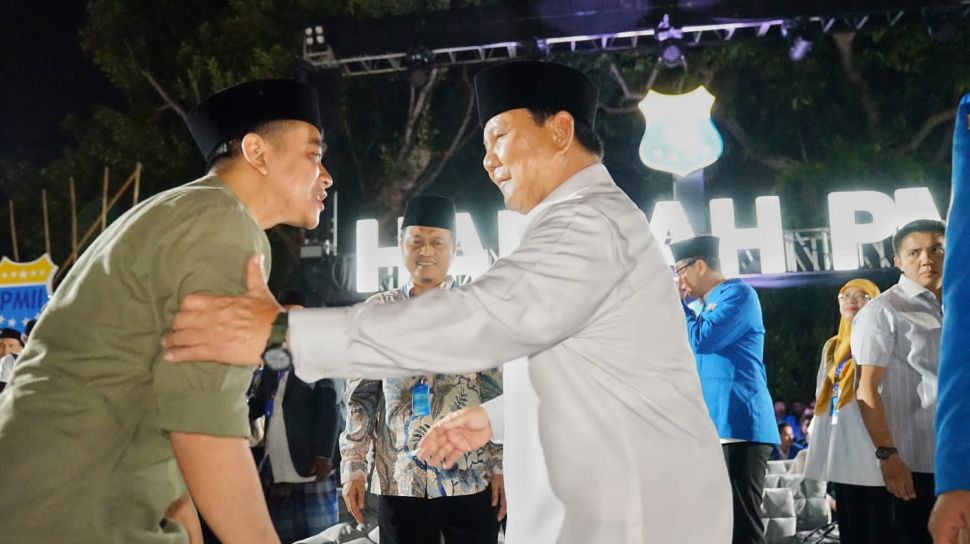 Suara.com – The Secretary General of the PDI Perjuangan DPP, Hasto Kristiyanto, spoke about the issue of Gibran Rakabuming Raka being said to be a vice presidential candidate to accompany Prabowo Subianto in the 2024 presidential election. In fact, Gibran is still a party cadre with the symbol of a white-snouted bull.
Hasto said that this was only an issue that was deliberately raised by a number of parties.
"Yes, there are a lot of issues, the origins of the issues are because this is a normal contestation, we are used to being faced with various issues," said Hasto when met on the sidelines of reviewing the dirty rehearsal of the IV PDIP National Working Meeting at Jiexpo Kemayoran, Central Jakarta, Thursday (28/9/2023).
Gibran said Hasto, so far he is still disciplined in following all the rules of the PDIP game.
Also read: Meeting Kiai in Surabaya, Prabowo's accompanying vice presidential candidate narrows down 2 names
"Mr. Gibran, we also often have dialogue with him. Mr. Djarot, at the party school, always attends with great discipline," he said.
He then said that before and during the presidential election there would definitely be issues, including those that were divisive or just fighting against each other.
"If there are these issues, there are indeed scenarios from other parties who are trying to put in place the politics of divide et impera (politics of divide and divide), which is the politics of the colonial era," he said.
"Today's politics is the politics of collaboration, the politics of mutual cooperation, the politics of seeking positive energy for the nation and state. So election contestation is fine, but it places the people as the holder of the highest sovereignty," he continued.
Regarding the possibility of Gibran becoming Ganjar's vice presidential candidate, Hasto did not give any indication. In fact, it talks about the training of cadres to become regional heads.
Also read: Disappointed by Prabowo, Habib Rizieq Cs' support in the 2024 presidential election leads to Anies-Muhaimin
"As a party, we continue to upgrade each party cadre when assigned, then within the party there are periodic evaluation rules, the important thing is that we provide moral support, spiritual support for ideological and technocratic aspects so that they are more successful, even those who succeed become regional heads, we will make them permanent teachers at party schools," he concluded.
Gibran said
Previously, the Mayor of Solo, Gibran Rakabuming Raka, commented on his name being proposed as one of Prabowo Subianto's Vice Presidential Candidates. This party is the UN Secretary General Afriansyah Noor.
It is known that Afriansyah openly said that Gibran was one of the candidates put forward by the UN as Prabowo's running mate in the 2024 presidential election, even though he had different parties and coalitions.
The current PDIP has nominated its cadre Ganjar Pranowo as its 2024 presidential candidate. Meanwhile, Prabowo is in the opposite camp from the Advanced Indonesia Coalition.
On that occasion, Afriansyah told Gibran that there was no need to be afraid of leaving the party for the sake of the nation and state.
Responding to this, Gibran was initially reluctant to comment. He refused to comment because he was asked questions during working hours.
"Yes, I won't respond to that, let alone responding during working hours that is rude," said Gibran Rakabuming, quoted via the Surakarta News YouTube channel, Wednesday (27/9/2023).
Even so, President Jokowi's eldest son believes it is not an easy matter to leave the party. According to him, a cadre cannot just leave the party at will, even in the name of the nation and state.
"You can't do it like that, you just leave (from the party)," said President Jokowi's eldest son.