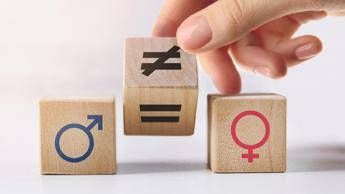 Gender disparities are still very present in our society and, by negatively impacting psychophysical health, constitute one of the major obstacles to the well-being of women and girls. These are the themes that are the basis for discussion between representatives of institutions, scientific societies and experts on the occasion of the VII National Congress of the Onda Foundation, entitled "The impact of gender inequalities on health and scientific research", underway until 28 September in virtual mode.
In today's society – we read in a note – inequalities persist in access to health services linked to various health determinants: environmental, socioeconomic, cultural, education, income, family and social network conditions. In particular, in some therapeutic areas addressed in the congress, mental health, oncology, sexual and reproductive health, cardio-metabolic health, inequalities persist in access to prevention, diagnosis and treatment services.
"It is now known that inequalities in health, including mental health, arise due to the inequalities present in our society, in the conditions in which people are born, grow, live, work and age – states Francesca Merzagora, president of Fondazione Onda – There are particular population groups with specific health needs and greater difficulties in accessing services: women victims of violence, people in prison, migrants, transgender people. It is our task to alleviate the present inequalities, with a view to also lightening the moral burden and mental burden that burdens those who are disadvantaged, who unfortunately are often women. It is extremely important to make a contribution to reducing the gender gap in healthcare and scientific research."
Women have "good access to the world of health, but there is one area, that of work and its greater burden, in which the inequalities – adds Claudio Mencacci, president of the Italian Society of Neuropsychopharmacology (Sinpf) – are particularly evident. This has a serious impact on mental health: anxiety, depression, sleep disorders are the most frequent manifestations which could be alleviated if in the world of work there was greater equity in wages, better work schedule reconciliation and above all, culturally, greater consideration and valorisation of work. female which is often double that of male".
Among the factors that influence health, we must include not only gender differences, but also the inequalities created due to disadvantaged environmental, socioeconomic and cultural conditions. With this in mind, the survey "Mobility for diagnosis and treatment: the patient's point of view" carried out by Elma Research was conducted and presented to identify and quantify the disparity in access to oncological care depending on the place of residence.
The data collected, in relation to breast and lung cancer, show that the place of residence defines choices and behaviors related to health, in fact, 40% are being treated in a facility outside the municipality of residence, this migration towards other municipalities in a third of cases it is dictated by necessity as there is no center in your municipality of residence capable of providing the care and tests you need, while in 57% of cases it is because you want to reach centers recognized as important and able to provide the best care. In areas with low accessibility, the movement towards treatment centers outside one's area of ​​residence is decidedly greater (45%).
The move, even if voluntary, has a strong impact on the patient, affecting above all on an economic level (32%), demanding in terms of transport (2%), painful on an emotional level (24%) and involves giving up social commitments ( 17%). "From the survey with patients we can see that mobility towards places of treatment is not a choice between different possible options but is often an obligation that impacts on an economic, relational and social level – underlines Massimo Massagrande, CEO Elma Research – Furthermore, very Patients are often not informed of the existence and possibility of accessing clinical trials when other active therapies are no longer available. And, even when they are aware of this therapeutic possibility, they often reject it precisely because of the distance. Through a survey of oncologists, the results of which will be available shortly, we will try to understand the other side of the coin."
"The discomfort and perception of discrimination among patients forced to travel to feel best cared for is evident – concludes Filippo de Braud, director of Medical Oncology and Hematology, Fondazione Ircss Istituto Tumori, Milan – However, excellence is the result of organization and experience also based on the volumes of case studies. This imposes the need for national and regional organizational choices to guarantee the best diagnostic and therapeutic path for all patients while respecting the right to be treated to live and not to live to be treated."
The Congress is made possible thanks to the unconditional contribution of Hra-a Perrigo Company, Janssen Cilag Spa, Korian, Laboratoires Expanscience Italia Srl and Pfizer Srl.