The rider born in 2004 dominated the Moto2 race but the Italian was a solid second. Nice tussle between Roberts and Garcia for third place. Foggia also scores points
September 24, 2023
With the sixth seasonal victory in 13 races Pedro Acosta puts another important brick in the construction of his Moto2 world champion title.
The path towards the MotoGP of the rider born in 2004 is becoming more and more concrete, increasing the credentials and expectations of this boy. He will make his debut in the senior class 20 years, like Marc Marquez, a year before Valentino Rossi. And like the two of them, he will probably do so as world champion of the two categories preceding MotoGP. The perfect resume.
But today in India it is also saw a great Tony Arbolino again. The driver from Lombardy started well twice and finished in front from seventh.
Yes, twice, because there were two departures and after the first there was one Red flag caused by an accident triggered by Jeremy Alcoba: four other pilots crashed and it was the worst Celestino Vietti who made a great flight and was then unable to bring the bike back to the garage to restart. Sin.
The second race was shortened from 18 to 12 laps. Behind Acosta and Arbolino he arrived Joe Roberts which, after a good battle, he put behind him Sergio Garcia. This is the podium but Roberts got a green on the last lap, which was not sanctioned.
The words of the three on the podium

Acosta, first: "Hard race for everyone, it was very hot, in the end the bike released a lot of heat, we won another race, the team did a fantastic job and thanks also to the family."
Arbolino, second: "A shame, I lacked a bit of feeling in 3rd, I'm proud to be back on the podium, it's a shame at the start that Garcia overtook me and this hindered me a bit, we'll do better at the next race."
Joe Roberts, third: "What a battle, the most fun I've done in a long time, I'm happy to have at least made this podium."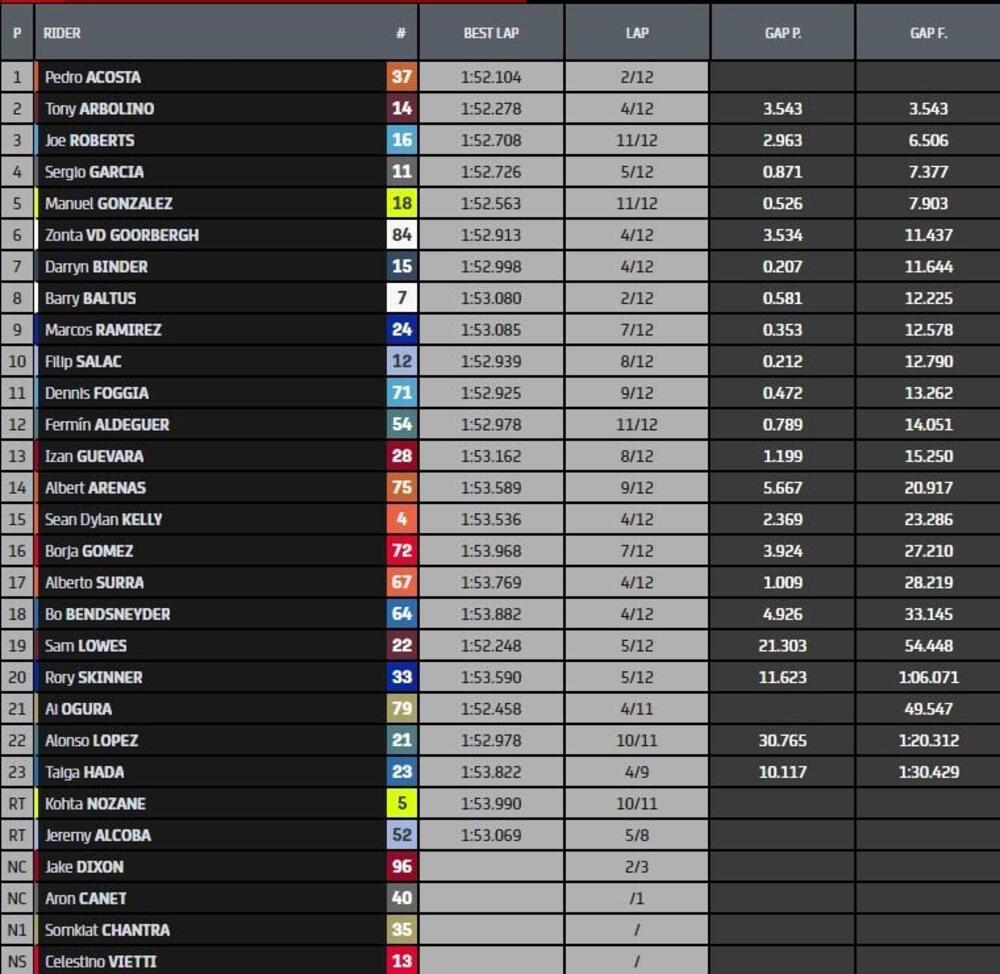 Moto2 race ranking