Solo triumph for Marco Bezzecchi, ahead of Jorge Martín, who almost faints in parc fermé and a great Fabio Quartararo. Francesco Bagnaia crashed on lap 14 while he was second: now in the standings just 13 points ahead of Martin and 44 over Bezzecchi. Not a fun race: rating 6.5
September 24, 2023
Yesterday he had demonstrated that have more speed than anyonebut he couldn't realize its superiority. She did it today, with one flawless raceand unthinkable pace, a superiority that almost makes one regret what it could have been, but it wasn't the fault of others. And not just what happened in India. But after a race like this you can't think about the bad things from the past, you just have to rejoice for a success that certifies – once again – the greatness and strength of Marco Bezzecchi.
Solo success, over eight seconds ahead: difficult to see in MotoGP. Just as it had been amazing yesterday in his comeback from 17th to fifth position, it was today in his solitary ride. And with Francesco Bagnaia's bad mistake, Bezzecchi is close to 44 points behind his world champion friend/rival.
Bagnaia, we didn't need it

Yesterday he said: "We need to change the trend, I've lost points to Martin for too many races." Probably, Bagnaia only had this objective in mind and after being overtaken by Bezzecchi – irrepressible – he forced himself to hold second place. By the fifth lap it was rammed hard by Martin: if he hadn't picked up the bike, they would probably both have fallen.
At that point it seemed that Jorge might escape, the only one, among other things, to mount the medium rear tyre, but Pecco held, he didn't give up, he wasn't satisfied with third place. On lap 13, here's the opportunity: Martin goes wide, Bagnaia enters. But once again he is not satisfied, he pushes harder, he extends to +0 "442, but then, on the 14th lap, here's the error that you don't expect: closure of the front, race over. Despair.
Martin exhausted, Quartararo what a race

At this point, Martin's second place seems safe, but here's the unexpected: Martin has the suit visibly openbut it has the lucidity to slow down, to close the suit and leave again. Quartararo had gotten close behind him, but in an instant he extended his lead to more than a second again and began the final lap with a 1.4″ lead over Quartararo. But the pilot of the Ducati is exhaustedgoes long, is passed by Fabio, but has the strength to throw himself back in forcefully, and then cut the finish in second place.
He arrives in parc fermé destroyed, asks for water, is exhausted. But increasingly second in the world championship, just 13 points behind Bagnaia. My goodness, what a challenge. AND which Fabio Quartararo pilots: on a track where his Yamaha was finally in less difficulty than usual, here comes the rider. He is a world champion and when he can he shows all his worth.
Marquez ci proves it, ma cade

For five laps, the race was on also inflamed by Marc Marquez, however, crashed on the sixth lap while he was fourth, not far from the podium. Even in the fall, Marquez returns to the Marc he once was, he tries to keep the bike, he can't do it, but he starts again and makes a good comeback up to ninth position.
Could he get on the podium? Yesconsidering the fifth place of Joan Mir, who in the final laps gave rise to a furious challenge with Brad Binder, won with tenacity by the KTM rider. Nice, however, to see Mir back up front: here, objectively, the Honda worked reasonably well.
Aprilia last in the class

So, for the first time this season, the worst bike at the finish line is the Aprilia: Aleix Espargaró had a technical problem on the 11th lap while he was seventh, six tenths behind Binder, while Maverick Viñales finished eighth, after passing second to last on the first lap due to a problem at the start.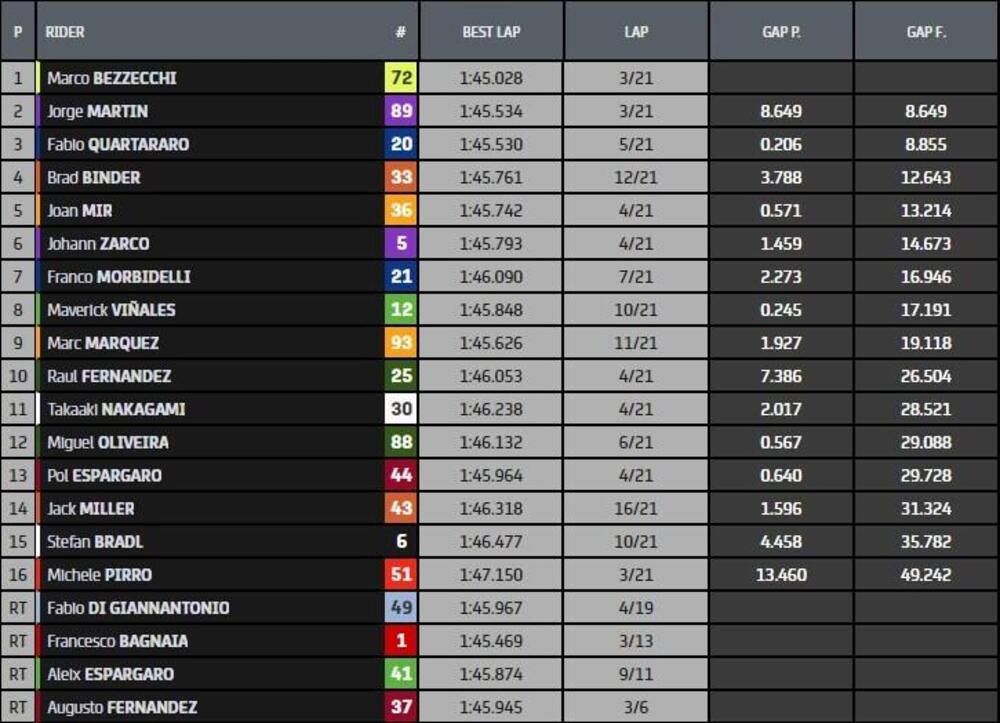 MotoGP race ranking