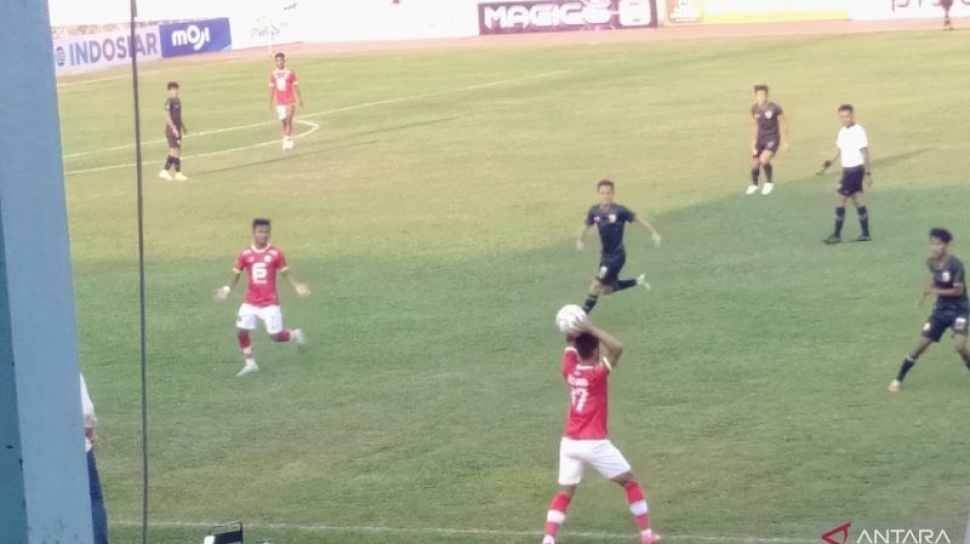 Suara.com – Bekasi FC won full points after beating Persikab Bandung Regency with a score of 1-0 in the Indonesian League 2 follow-up match at the Singaperbangsa Stadium, Karawang Regency, West Java, Sunday (24/9/2023).
The home team Bekasi FC's winning goal was scored by Ezechiel NDouassel in the 43rd minute.
The goal was created after Ezechiel, who was standing in front of the goal, received an air ball and managed to get the ball into the top right corner of the goal.
In the match, which was watched by around 600 spectators, each team appeared to attack each other throughout the first half. However, a new goal could be scored towards the end of the first half.
Also Read: Indonesian U-24 National Team Qualifies for the Round of 16 of the 2022 Asian Games, Indra Sjafri Planning to Call Ramadhan Sananta Again?
Entering the second half, Persikab Bandung Regency, which was left behind, tried to get up and increase the intensity of the attack.
As a result, for almost the entire second half, the match was dominated by Persikab Bandung Regency attacks. However, Bekasi FC's strong back line was difficult for the visiting team to penetrate.
Bekasi FC seemed to only rely on counter attacks throughout the second half. This condition occurred because the Bandung Regency Persikab launched continuous attacks.
However, until the referee blew the long whistle to signal the end of the match, Persikab Bandung Regency was unable to respond. Bekasi FC secured victory with a score of 1-0.
Bandung Regency Persikab coach I Putu Gede said that Ezechiel's goal was quite surprising because it occurred in the final minutes of the first half.
Also Read: Indonesia U-24 National Team Defeated by North Korea, Indra Sjafri Disappointed His Squad Neglected to Anticipate Set-piece
"In the first half we didn't find our rhythm. But in the second half I was happy, the players found their rhythm and quite a lot of opportunities were created," he said.