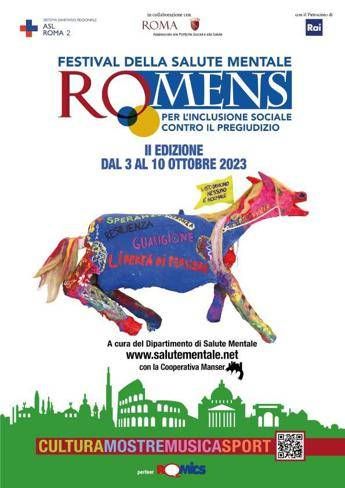 The second edition of the Ro.Mens mental health festival for social inclusion against prejudice, #davicinonessunoènormale, will take place in Rome from 3 to 10 October. Initiative is organized by the Mental Health Department of ASL Roma 2, the largest in Italy with a population of approximately 1.3 million inhabitants, in collaboration with the Department of Social Policies and Health of Rome Capital, with the sponsored by Rai and with partners Romics, the International Comics Festival. Godfather the actor, director and presenter Pino Strabioli. The first testimonial is the actor Lillo, with others on the way.
There are 92 works created by students from 22 secondary schools on the theme of mental health as part of the 3 competitions for figurative arts (24 paintings, 2 painted sheets, 1 sculpture), literary (35 themes and 13 poems) and audiovisual (9 short films, 3 songs, 5 podcasts). The 3 winners will be awarded by the mayor of Rome, Roberto Gualtieri, together with the company/cooperative with stories of hiring people with mental disorders, on Tuesday 10 October in Campidoglio, on the occasion of World Mental Health Day. As part of the various cultural, musical and sporting events, among others, the singer-songwriter Edoardo Vianello, the general director of the Department of Prevention of the Ministry of Health Francesco Vaia, the coordinator of the Technical Table on Mental Health of the Ministry of Health Alberto Siracusano, and the vice-rector of the Roma Tre University Marco Catarci.
"We want to create a city of solidarity – said Barbara Funari, councilor for social policies and health of Rome Capital – where those suffering from mental distress do not feel marginalized and alone, combating stigma and building an integrated social and health network".
"Our company – highlighted Giorgio Casati, general director of ASL Roma 2 – is committed to pursuing innovative paths, bringing together different subjects, to provide answers to mental distress also in terms of prevention".
"Our objective – concluded Massimo Cozza, director of the Mental Health Department of ASL Roma 2 – is to promote inclusion and overcome prejudices with correct information on mental disorders, starting from the person with a biopsycho-social approach".