Suara.com – The drought that has been going on for the past month has resulted in dryness and shortages of clean water in a number of areas. This immediately became a serious concern for the Al-Quran Waqf Board (BWA).
One of the areas affected by this drought is the west coast area of ​​Pandeglang Regency, Banten. People in the area better known as South Pandeglang experience difficulties with clean water for their daily needs, such as cooking and washing.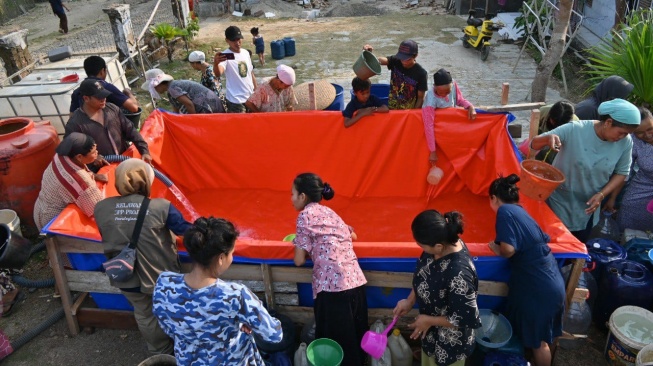 Residents in Padeglang, Banten seemed enthusiastic about receiving clean water assistance. (BWA documentation)
If they want to get clean water, they have to buy it from a drinking water depot for those with a lower income. But not for those from lower economic backgrounds who don't have the ability to buy water.
Seeing this condition, BWA immediately moved quickly to help people experiencing a clean water crisis. Through the Humanitarian Alms program, BWA provides clean water assistance to four villages in three sub-districts that are experiencing a clean water crisis.
Also read: PAM Jaya water supply in 7 RTs is dead, Kalideres residents are forced to queue for clean water every day
Clean water assistance was brought using water tank trucks with a capacity of 6,000 liters which were distributed directly to several locations. In the initial stage, BWA distributed aid to Simpang Tiga Village and Turus Village in Patia District, then Mekarsari Village in Panimbang District, and Sumur Batu Village in Cikeusik District, Pandeglang Regency, Banten.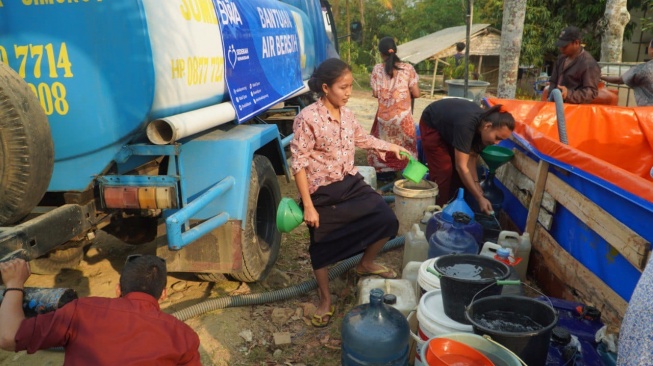 Residents in Pandeglang, Banten seemed enthusiastic about taking clean water from BWA assistance. (BWA documentation)
"We thank you very much, we hope that the water provided by BWA will be useful for our residents, especially for the people of Sumur Batu Village, because previously there was no clean water assistance coming to our village, after the drought hit for the past three months. Hopefully in the future BWA will make things easier in carrying out other social missions," said Dian Nur Jaman, Head of Kampung Sumur Batu, Kec. Cikeusik, Pandeglang.
The community was very enthusiastic about receiving the clean water assistance brought by the BWA team, they flocked to fill jerry cans with clean water. They are very happy to receive this clean water assistance, because they do not have to pay money to buy clean water for their consumption.
"God willing, BWA will carry out this activity again for communities experiencing a clean water crisis, especially in the South Pandeglang area," said Novi Wahyudi as coordinator of BWA's humanitarian alms program.
"The simple steps we will take are just bringing clean water via water tanker truck and making storage tanks from tarpaulin," he continued.
Also Read: Fisherman's Story Helps Residents Get Clean Water in Ciawitali Pangandaran Hamlet
"Wells and rivers are experiencing drought and there is no water. To get water we took it to the Suryanen River which is 2 km from our village. Today we would like to say a big thank you to BWA who cares about our community by distributing clean water," said Ahmad Suhaedi as head of the youth group of Ciririgi Lebak Salam Village, District. Patia, Pandeglang.