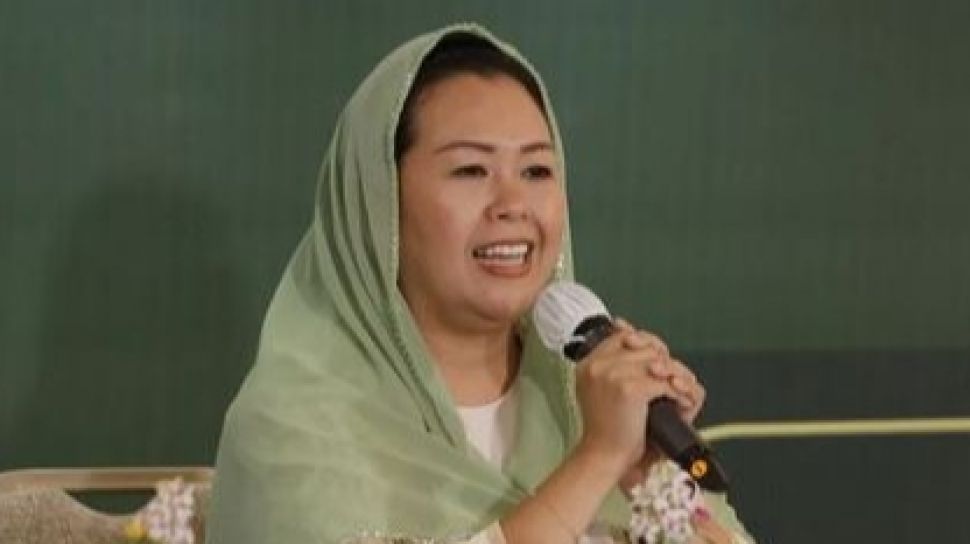 Suara.com – More than one hundred kiai and gus from a number of Islamic boarding schools in East Java prayed for the daughter of the 4th President of the Republic of Indonesia Abdurrahman Wahid (Gus Dur) Zannuba Ariffah Chafsoh or Yenny Wahid to become a candidate for vice president or cawapres.
"Today, we together with kiai and gus-gus from various regions, there are also orphans, there are also fuqaras together praying for Mbak Yenny Wahid so that she can become vice presidential candidate. God willing, this prayer will come true," said one of the elders. kiai, KH Muchid Murtadho during Multaqo Dhikr and Prayer Together at the Sunan Kalijogo 2 Islamic Boarding School, Surabaya, Sunday (17/9/2023).
Kiai Muchid Murtadho also conveyed the importance of prayer for the nation and state. Multaqo is an effort by kiai and gus-gus through prayer and remembrance of Allah SWT so that the Indonesian nation and state will always be given grace and kindness.
Meanwhile, the Head of the Sunan Kalijogo Islamic Boarding School, Gus Najih Farhoq, said that this activity started with discussions between several kiai and gus-gus several months ago, related to the many reports mentioning Yenny Wahid as a potential vice presidential candidate in the 2024 presidential election.
Also read: Claiming to support Prabowo, Democrats will announce the direction of the coalition during the National Conference on September 21
From this discussion, the initiative emerged to hold a meeting to provide support. Because of this, Multaqo was created, the essence of which is to hold joint prayers and dhikr as a spiritual effort for the good of the nation and state ahead of the 2024 presidential election.
"Ms. Yenny Wahid is the granddaughter of Hadratussyaikh Mbah Hasyim Asy'ari, daughter of Gus Dur. Therefore, at Multaqo, we kiai and gus-gus are holding prayers and remembrance so that Mbak Yenny Wahid can be granted her wish as Cawapres 2024," said Gus Najih Farhoq .
"Hopefully the prayers and dhikr at Multaqo can open the doors of heaven, open the minds and hearts of the elite so that it will be easier for Mbak Yenny Wahid to become vice presidential candidate in the 2024 presidential election," added Gus Najih Farhoq.
This Multaqo was attended by various kiai and gus-gus including KH Abdullah Abid Uzair from Al-Balagh Islamic Boarding School Tuban who is also the grandson of KH Misbah Musthofa, KH Ahmad Sahal Mahdi who is the grandson of KH Hamid Pasuruan, KH Danial Farafish SH, M.Ag from the Luhur Malang Islamic Boarding School.
Then KH Muhammad Yusuf from PP Darul Mutaalimin who is also the Chair of the Batu City FKDT, KH Nurul Huda from Pondok Yatim Al Ichlas Tanjungsari Surabaya and Habib Asyik from PP Al Hidayah Batu City, Malang.
Also read: Profile of Prabowo who is supported by SBY: Biodata, career, education and black notes
Next, Habib Abdillah Alkaf from Majlis Burdah and Sholawat Ponpes Al Qohiriyah, KH Mas'ad Azaya, Habib Rifqy Bagus Alifiansyah Alkaf Tahwirul Qulub Surabaya, Habib Husein BSA, KH Arief Fauzi from Bina Perempuan Madani Islamic boarding school.
Apart from that, there were also Gus Nafi' from Kencong Kediri, Gus Huda Yazid from Kormas Surabaya, Gus Mas'ud Zakariya, Gus Amir Syaifudin Romli from the Gisik Sidoarjo Islamic Boarding School, Gus Riyadi who is the Caretaker of the Gisik Sidoarjo Islamic Boarding School, Gus Nur Mualik from Ishari Idqorus Surur, Sidoarjo.
Based on the schedule set by the Indonesian General Election Commission (KPU), registration of presidential and vice presidential candidates is scheduled to start from 19 October to 25 November 2023.
As regulated in Law Number 7 of 2017 concerning General Elections (Election Law), presidential and vice presidential candidate pairs are proposed by political parties or combinations of political parties participating in the election that meet the requirements for obtaining seats of at least 20 percent of the number of DPR seats or obtaining 25 seats. percent of valid votes nationally in the previous DPR member elections.
Currently, there are 575 seats in parliament so that the presidential and vice presidential candidate pair in the 2024 presidential election must have the support of a minimum of 115 seats in the DPR RI. It is also possible that candidate pairs will be nominated by political parties or a combination of political parties participating in the 2019 General Election with a minimum total of 34,992,703 valid votes. (Source: Antara)