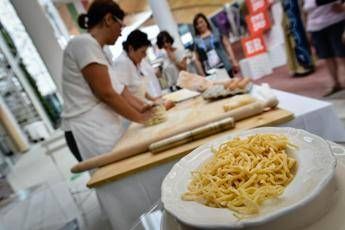 In Italy for some time we have been witnessing a real epidemic of gluten intolerance which affects approximately 12% of the population. Today a research hypothesis seems to exonerate gluten and identify anti-nutritional factors contained in wheat and there are a series of possible solutions being studied. Tomorrow at the 'A. University Hospital. Gemelli' Irccs of Rome a congress, 'Wheat. Production, preparation and conscious consumption for intestinal well-being', brings clinicians (gastroenterologists, allergists, nutritionists), agriculturalists and producers around the same table for the first time to discuss the possible causes of this epidemic of gluten intolerance.
"We are witnessing this on a global level – explains Giovanni Cammarota, director of the complex Operational Unit of Gastroenterology of the Gemelli and associate of Gastroenterology of the Faculty of Medicine of the Catholic University of the Sacred Heart, co-president of the congress together with Stefania Masci, agricultural geneticist of the University of Tuscia, vice president of the Society of Agricultural Genetics, and Antonio Gasbarrini, director of the Complex Operational Unit of Internal Medicine and Gastroenterology of the Gemelli – to an explosion in the marketing of 'gluten-free' products, linked to a real ' epidemic of gluten intolerance".
"But how much is 'fashionable' or suggestive and how much is solid scientific reality? "The known pathologies linked to wheat (celiac disease, gluten-sensitivity, wheat allergy) – states Cammarota – have a prevalence ranging from 1 to 5%. But alongside this, it is estimated that globally no less than 10-15% of people self-diagnose a 'gluten intolerance' (in Italy 12%) and therefore self-exclude gluten from their diet. And this especially concerns millennials and generation Z (up to 15% self-diagnosis), while in baby boomers the phenomenon stands at 4%".
The industrialization of wheat production is under the spotlight
A possible explanation for this boom in gluten intolerance could be linked to the industrialization of wheat production. "The mechanisms that can induce gluten sensitivity – explains Cammarota – are well known; but we must also take into consideration many other proteins contained in wheat, capable of inducing sensitisation. Great interest is currently focused on the so-called 'anti-nutritional factors' (ANF) of wheat, such as phytates, tannins, amylase/trypsin inhibitors (Atis) and many others".
"These proteins have the specific function of protecting wheat from its natural enemies, but at the same time they can slow down the digestion of proteins, carbohydrates and molecules present in the wheat itself, as well as interfering with the absorption of biomolecules (for example iron and zinc), reducing their bioavailability. One way to neutralize these anti-nutritional substances – adds Cammarota – could be, for example, to prolong the fermentation times of wheat, at a controlled temperature. But an excessive increase in demand can lead to a lower attention to the processing of wheat; in this case these anti-nutritional substances are not neutralized and can cause poor digestion, but also trigger inflammatory and innate immunity mechanisms in the body". In other words, excessive demand from the market can lead to a poor quality of wheat processing. And this could be the basis of the explosion of the so-called 'gluten sensitivity', rather than gluten itself".
"This is why – concludes Cammarota – it is so important to bring together agricultural scientists and clinicians (gastroenterologists, nutritionists, allergists, etc.) to bring together the different lines of research on this objective and study the same problem from different points of view".
"It would be important to have a continuous dialogue with production – says Cammarota – to try to vary the type of wheat and gluten and carry out controlled clinical trials to understand whether or not a certain process causes the appearance of symptoms. This wave of 'sensitivity ' however, as mentioned, it may not be attributable to the genetics of wheat (i.e. it would not be a question of 'ancient' grains or 'modern' grains), but rather to modern production and processing techniques. It would also be interesting to vary the type of gluten within wheat, to identify the most immunogenic one and capable of stimulating sensitivity. In short, there is gluten and gluten, both in terms of quantity and quality."
"Wheat (or corn) is a very ancient cereal, one of the first plants used by man in the food sector and still today the cereal at the basis of our Mediterranean diet – recall the Gemelli experts – It is the source of approximately half of the food calories consumed all over the world and is rich in proteins, fibre, vitamins, minerals and antioxidants.More recently the industrial use of pesticides, nitrogen-based fertilisers, together with genetic improvement, have made it possible to increase the productivity of wheat and to obtain a gluten suitable for the production of numerous products, some of which characterize the geographical areas of production".
"Sustainable production, with little input of chemical substances, together with projects for the expansion and use of the genetic variability of wheat, associated with the maintenance of a high technological and nutritional quality, are therefore the main targets of interest for the improvement of wheat for the purposes of human food use", conclude the experts.