Of all the DDR5 memories that have passed through my hands, I couldn't keep the Corsair badges. Those memories that promise excellent performance and that until now are considered the most premium product of this generation. The Dominator Platinum RGB DDR5 are the most powerful and aesthetic I have tested to date.
The major focus of this product is to maximize the performance of our PC. With full compatibility with Intel XMP 3.0its performance is unparalleled and although we will see that later it is always good to let it be known that for the first time what a company promises it delivers and that is worth highlighting.
This ram kit comes in different versions. The ones reviewed in this case have a frequency of 6600 Mhz and a CAS latency of 32 (this is only feasible when activating the XMP 3.0 profile). If we do it manually we are supposed to have a certain instability and it is worth highlighting that it is always good to look for compatibility with the motherboard we are using, just to have a certain security when using them to the fullest.
From the packaging itself we realize that it is an excellent quality product. It should be noted that like all other previous Dominators, the weight of these memories is notable. It feels like a fairly robust product thanks to the cooling system it has. As you can see in the images, the heatsink they have is quite remarkable and with the help of the iCUE software this can be controlled/monitored in a very easy way.
Everyone knows that the job of ram memories is to facilitate the load when opening a number of things and although our PC does not feel slow, we need to understand that, just like storage issues, we have different points to take into account such as example reading and writing. All this is thanks to the frequencies used by our CPU in conjunction with the configuration we choose at the moment.
Something to note is that the same Corsair iCUE software helps us control the voltage and regulate its performance if we decide to use everything manually. During all the tests carried out, Intel XMP 3.0 profile 1 was on and until the time of writing this review there was never a need to modify anything.
I imagine you noticed but the RGB of these memories for me is unique, each memory kit has a total of 12 RGB LEDs with quite a lot of brightness and the best of all is that with them on or off the consumption is literally the same . These memories consume a total of 1.41v under heavy use (such as gaming and benchmarks) while for regular use they are at a total of approximately 1.10v.
Finally, it was out of the question that Corsair offered a (limited) lifetime warranty. So if for some reason it stops working we know we have everything covered. Now we move on to testing and a little more in-depth knowledge of the specifications. But not before letting them know the specifications of the PC used for said tests:
As you can see in the image below we can see the specifications using the CPU-Z program and there we can see each of the details mentioned above, including the timing table.

Continuing with the issue of specifications and others, we come across one of the most important of all. The temperature when using ram memory is important but not a factor that affects many. When it comes to getting the most out of it and its maximum potential, we will need to maintain its temperature, but since the highest configuration is already applied (XMP Profile 3.0) it is not necessary to be so cautious.
As you can see in the image below, the temperature is quite stable on this ram kit. Let's not forget that at some moments while we play, the internal temperature of the entire computer mixes and may increase a little but as you can see, after playing approximately 3 hours of Call of Duty: Modern Warfare II the maximum it reached was about 44 at 48 degrees Celsius. Making it clear that temperature will not be a problem even though this ram does not have any temperature protector at all. The iCUE software is responsible for controlling and monitoring these details to ensure maximum performance.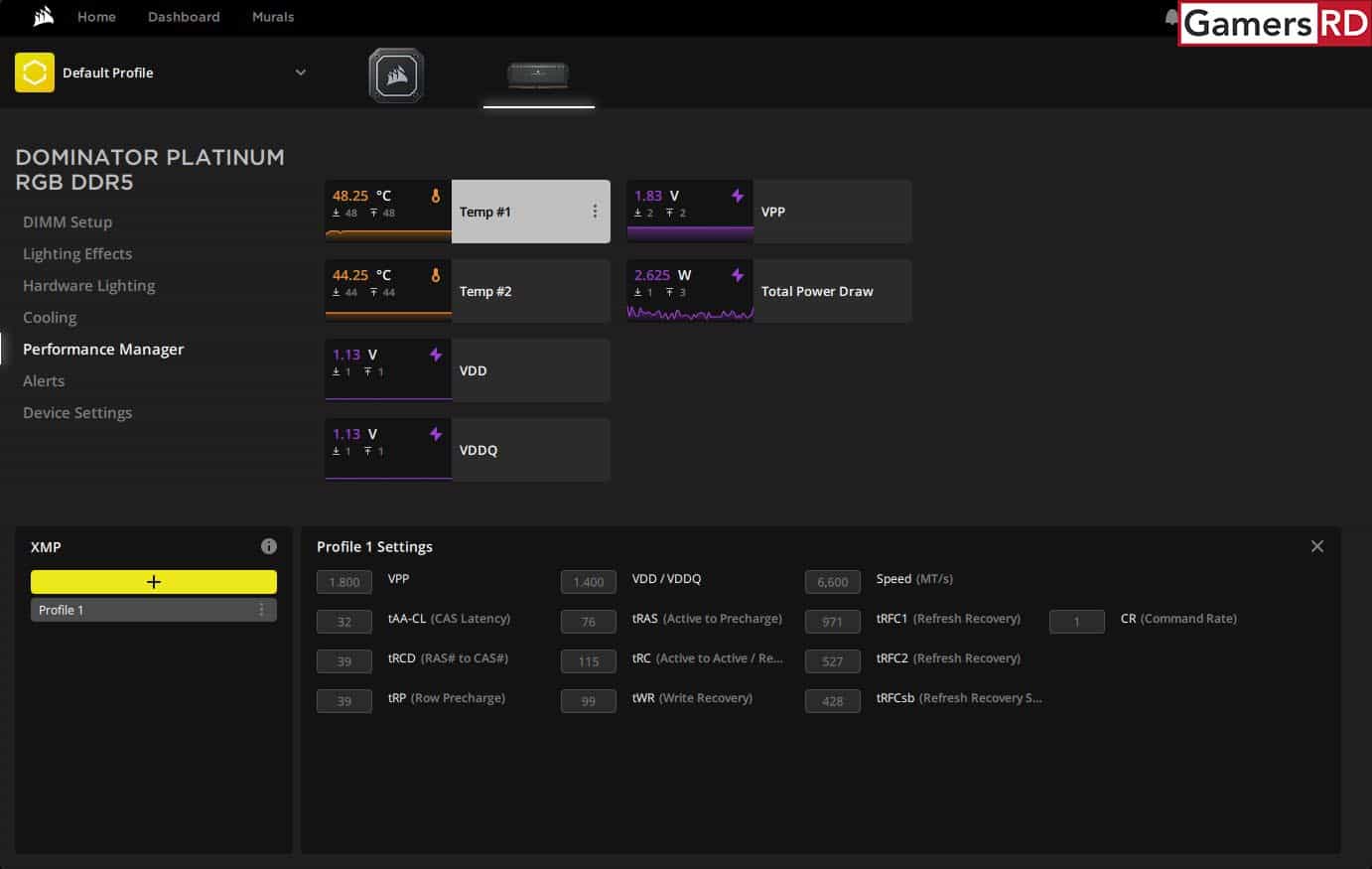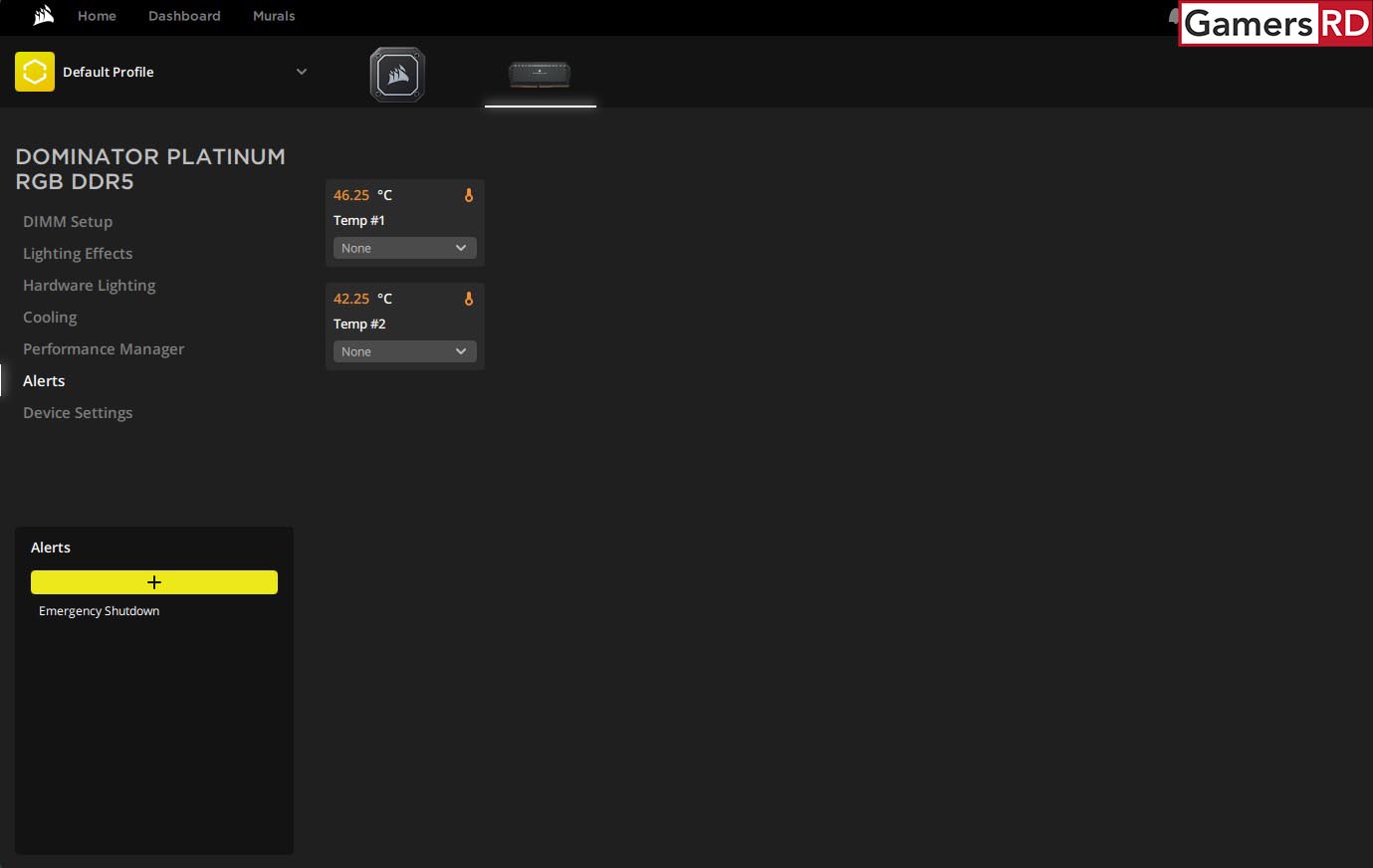 In addition to this, the same software offers us additional help in case something happens, such as a very high temperature, which would change the RGB color of the memory or even turn off the PC to avoid any damage to these components. \
Now we move on to the first result we have is the memory and cache benchmark provided by the AIDA64 program. In this we see a total of results based on reading, writing, copying and latency. This result is not compared to anything, it is practically a test to detect the most it can achieve in all aspects with the main measure of the speed variation that occurs in each of the cache layers. This test was carried out with the memories configured by default, which is 4800Mhz.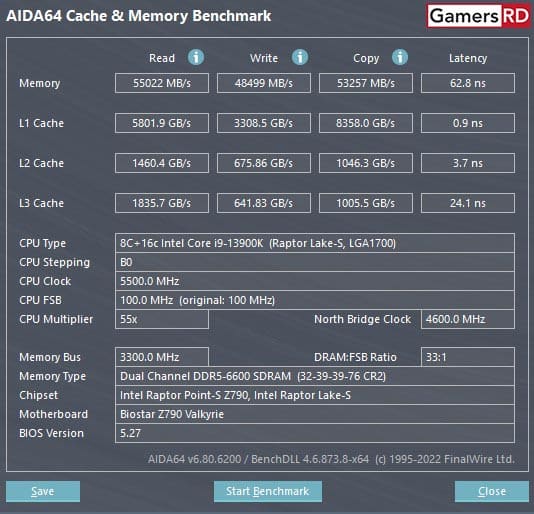 On this occasion we have to compare the memories in a series of graphs Dominator Platinum RGB DDR5 at 6600Mhz with other DDR5-5200, DDR5-6000 and DDR5-6400 memory kits. The first of all is the reading section:
Here you can see how clearly at the reading level the Corsair Dominator Platinum ends up with the T-Force Delta RGB (who only have 200Mhz difference) which makes their behavior and result obvious. The next test is the writing test, based on the same comparison as the previous one: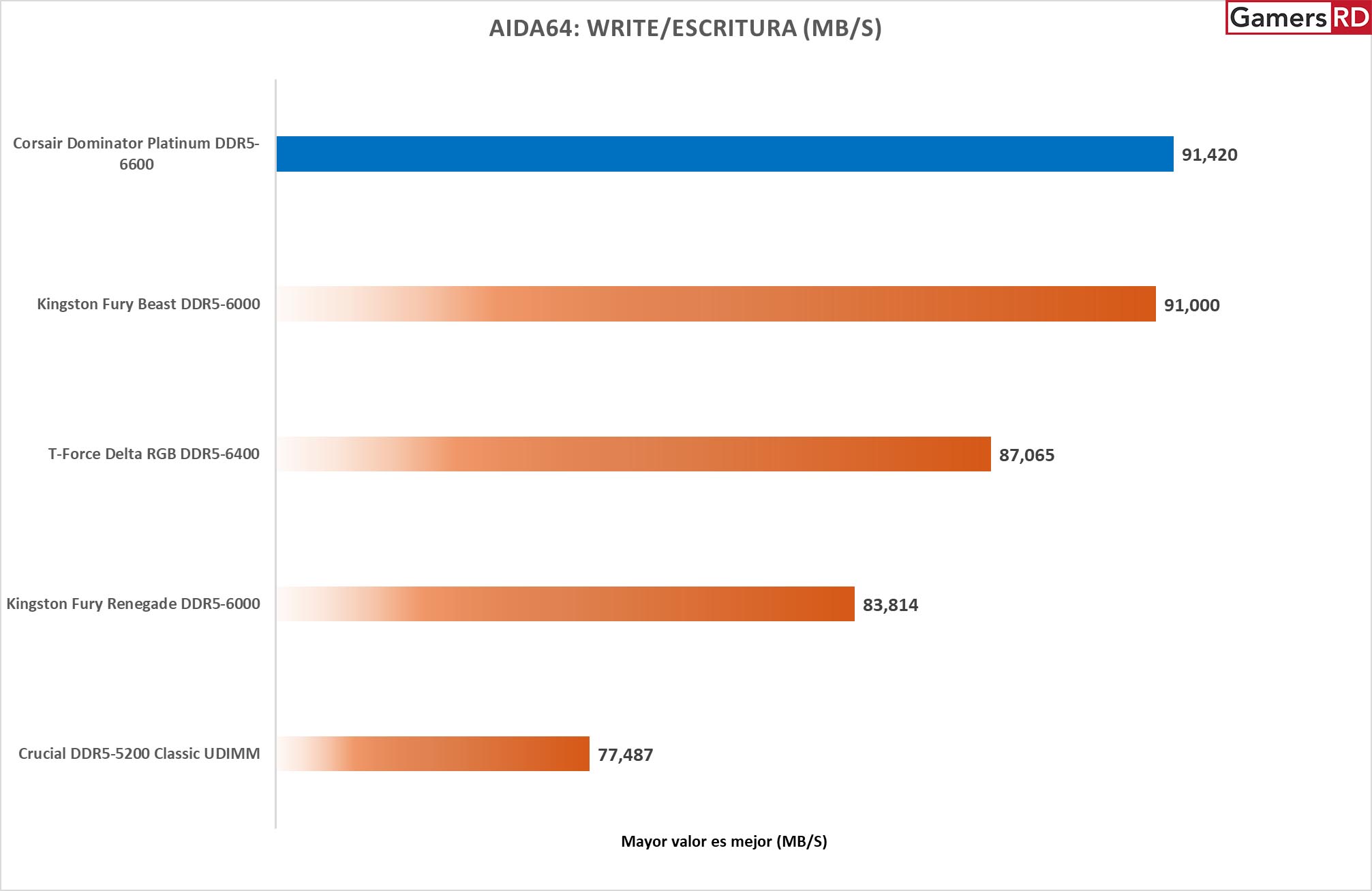 The difference between these two memories is practically minimal and can be noticed with the result where the Fury Beast at a speed of 6000Mhz can almost reach the Dominator with 6600Mhz.
In this case the Dominator Platinum They demonstrate superiority to all the others I have tried previously. One important thing is that these are benchmark results but when it comes to playing the experience is practically zero if we have memories with a frequency greater than 5000Mhz.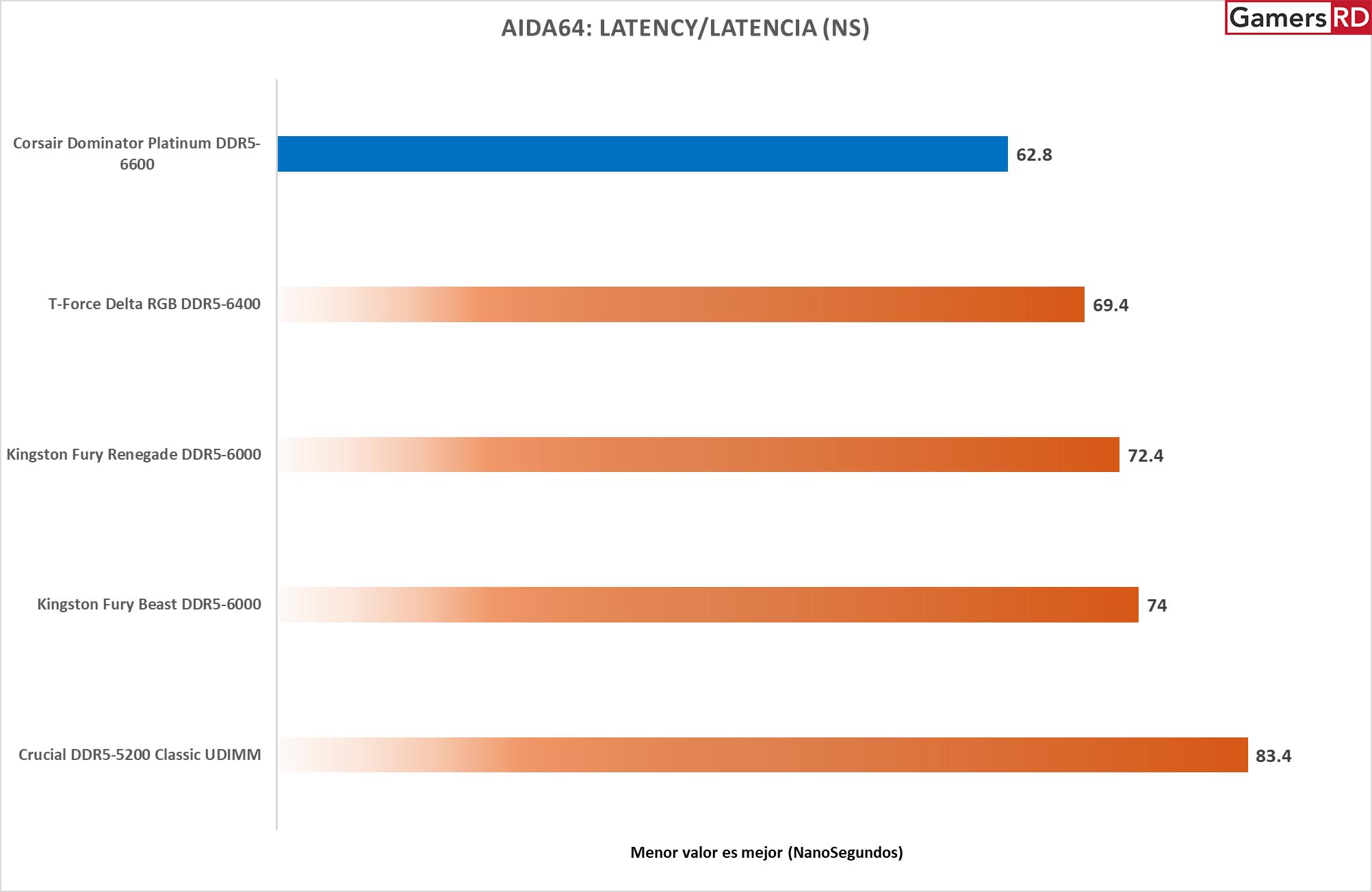 Finally, and for me, one of the best combinations of all is that despite having excellent speed, the latency is what makes the memory act differently and although in different profiles many memories have up to a CL40 on this occasion (with this high speed) we have a CL of 32. Which is a lot and can be noticed in the results evaluated in nanoseconds.
The tests have spoken and the results are relatively abysmal but it can be said that they were to be expected. To a large extent this is the objective of these memories, to give us the best possible performance with high speeds without sacrificing practically anything. It is good to note that we really do not need that much frequency when playing but the experience is quite pleasant in some cases. In all the memories I have reviewed to date, in none of them did I have any complaints while playing.
In conclusion
Las Dominator Platinum RGB DDR5 from Corsair are the best memories on the market in terms of performance. From the aesthetics and manufacturing material to the integrated functions that it brings, I can say that it is an excellent proposal for gamers who are quite enthusiastic. This was an expensive product compared to the memory standard with which it was compared, but as a premium product at last, it is not surprising that its price is quite high. It may be a challenge for some and compatibility issues with some motherboards but in reality it is a product that meets (very quickly) expectations. This review was carried out with a copy provided by Corsair.