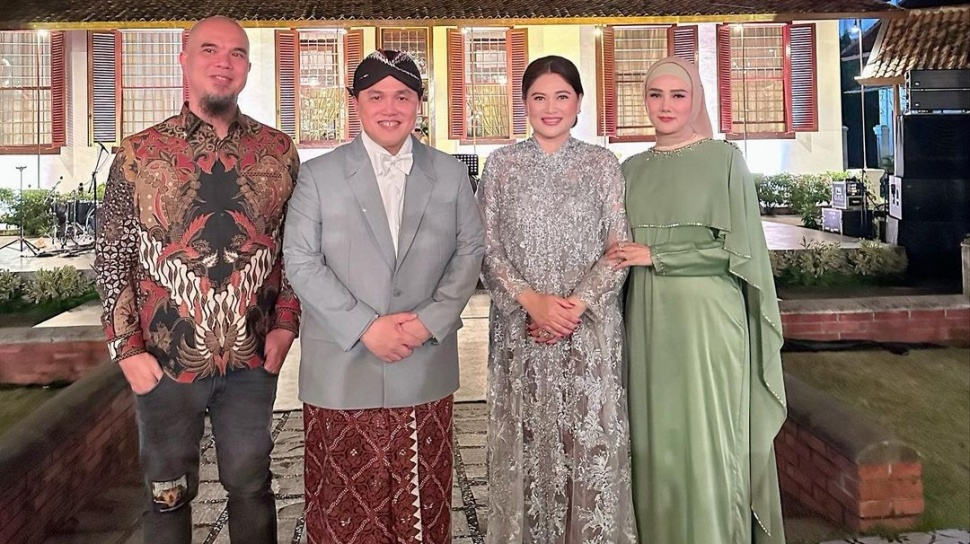 Suara.com – It cannot be denied that Ahmad Dhani is one of the most famous rock stars in Indonesia. So it's not surprising that Mulan Jameela's husband often wears casual clothes on various occasions.
However, netizens protested Ahmad Dhani's appearance this time, because he was considered disrespectful to the owner of the event.
Ahmad Dhani and Mulan Jameela attended BUMN Minister Erick Thohir's 25th wedding anniversary. Mulan looks beautiful and elegant wearing a sage green dress.
Meanwhile, Dhani wore a batik top, while underneath he wore faded black jeans and one of his knees was covered like a band logo.
Also Read: Maia Estianty Doesn't Want to Chat with Ahmad Dhani: This is the Biggest Level of Anger!
"Happy 25th wedding anniversary, Minister @erickthohir and wife. May you be more sakinah, mawaddah, warahmah, happy and always together in the world until Allah's jannah. Amen, O Allah," wrote Ahmad Dhani in the caption.
Even though he often looks like a rock star, this time Ahmad Dhani received a lot of criticism from netizens. Netizens thought that Dhani's appearance was inappropriate and was considered disrespectful to the people holding the event.
"Mas Dhani, sometimes you dress neatly and elegantly, suit your age," said one netizen criticizing him. "It's hard not to be fashionable," said another.
However, there are quite a few who defend Ahmad Dhani and think that the Dewa 19 frontman does not need to change his appearance style.
"That's the style of rockers, look at the rockers of the world, even the old people still have that style," commented a netizen.
Also read: Becoming a vocalist for Dewa 19, Virzha's pay is the cheapest among Once, Ari Lasso and Ello
"Ahmad Dhani doesn't need that, because his name and himself have become branding," added another netizen in defense.
Contributor: Tinwarotul Fatonah