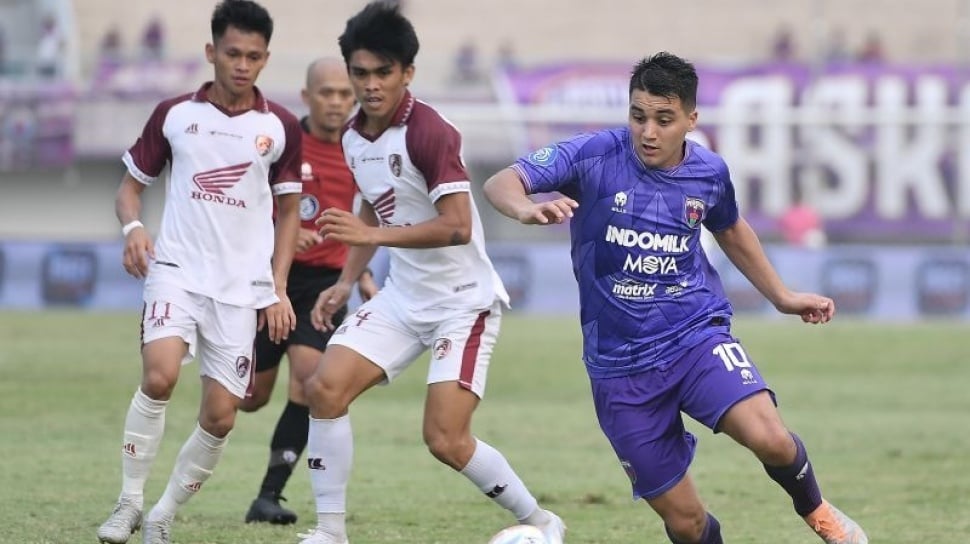 Suara.com – Persita Assistant Coach, Awaludin said his team was trying to maximize their status as hosts when they hosted Dewa United in the 13th week of BRI Liga 1 at the Indomilk Arena Stadium, Tangerang, Friday (22/9/2023) evening WIB.
Quoted from the club's official website, Friday, Persita Tangerang assistant coach Awaludin explained that head coach Divaldo Alves still cannot accompany the team on the sidelines, but it is hoped that Ramiro Fergonzi and his colleagues can secure the three points.
"As a team, we are very enthusiastic about tomorrow's match (today), we hope to get maximum results. Once again, Coach Divaldo Alves is slowly starting to improve this team so that it will be even better in the future," said Awaludin as quoted by Antara.
"Mentally, thank God, we got one point yesterday, that really made us improve a little bit mentally and psychologically. And the most important thing is the support from the supporters so they can be present and support us fighting at our home, our home together here ," he continued.
Meanwhile, Persita Tangerang wing defender Mario Jardel hopes that the players' hard work can produce results in the form of a win at home against Dewa United.
The former Persib Bandung player continued, Persita Tangerang must remain wary of all Dewa United players even though the visiting team will not be strengthened by striker Egy Maulana Vikri, who is currently strengthening the Indonesian U-24 national team at the 2022 Asian Games.
"Our players' own preparations are ready, hopefully tomorrow's (today's) match will run smoothly. And the Persita team will be given a win, it will be our hard work to recover from the previous match. Hopefully tomorrow's (today's) match we can won three points at home," explained Mario.
"Egy Maulana's absence is an advantage for us, that's a positive thing. But we don't want to think about that because on the field we play 11 against 11, we will focus on those who appear there. And we have to work optimally," he concluded.
Ahead of this match, Persita Tangerang has the ambition to win again after failing to score full points in the previous seven matches.
Currently Persita Tangerang is in 15th position in the Indonesian League 1 standings with 11 points from 12 matches, while Dewa United is in 11th place with a score of 17 points.