In the mid-1980s, a dolphin arrived on the coast of Amble, a small town in the United Kingdom overlooking the North Sea. The inhabitants called it Freddie. He had been attracted by the large presence of salmon in that stretch of sea, where a river flowed into it, and he didn't seem to be afraid of people. He swam with anyone who came near him, to the point that several animal lovers began coming to Amble for this very reason. Among them, the one who established the closest relationship with Freddie was Alan Cooper, an animal rights activist from Manchester, who moved to Amble and began spending many hours a day in the water with the dolphin.
In 1990, however, Cooper was charged with sexually assaulting Freddie, and years passed before he was declared innocent. The story of the alleged interspecies sex scandal hit the British tabloids and was followed with morbid interest by many people, damaging Cooper's reputation. Journalist Becky Milligan, who also swam with the dolphin in the late 1980s, told her story in her podcast Hooked on Freddie.
Freddie's arrival had transformed Amble from a town of fishermen and miners, many of them unemployed due to the privatizations of British Prime Minister Margaret Thatcher, to a town full of hippies, local celebrities and animal lovers who came to see the dolphin, among including at one point a man dressed in a caftan playing the didgeridoo at dawn, and a Californian spiritual guru who considered Freddie a mythological creature with magical powers.
Alan Cooper was a very active member of the Northern Animal Liberation League, a network of animal rights organizations that worked through demonstration actions. Milligan recalls that Cooper was said to have tried to convert the Amble miners to veganism and the fight for animal rights, although with little success. When he wasn't swimming with Freddie, his main occupation was protesting dolphinariums, i.e. aquariums where dolphins were trained and performed for an audience.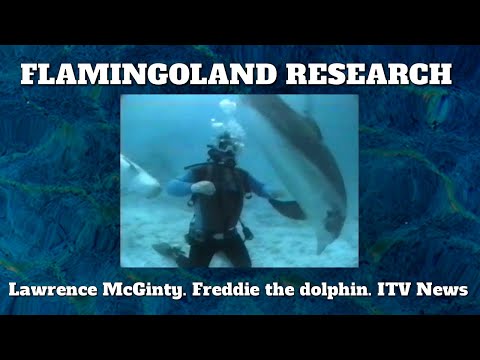 Cooper compared these spectacles to the slave trade and was particularly critical of Flamingo Land, a water park two hours from Amble owned by marine biologist and dolphin trainer Peter Bloom, who was the first in the UK to breed dolphins in captivity . After months of protests, Cooper also went to one of these shows to take photos of dolphins "in slavery", in preparation for a major protest campaign aimed at shutting down Flamingo Land. After the show, Bloom and Cooper also argued and Bloom explained to him that he also cared a lot about the dolphins and their well-being, but Cooper didn't believe it.
Intrigued by the stories heard about Freddie the dolphin, Bloom had already started to go to Amble frequently and distribute leaflets explaining what to do if you wanted to swim with Freddie safely. Cooper, however, claimed that the animal trainer was pretending to care about the dolphin's well-being to advertise his water park, and he in turn began distributing his flyers, to the point that the dispute between the two became the most discussed in the country.
Meanwhile, Cooper continued to do what, among other things, Bloom advised everyone against, that is, spending many hours alone with Freddie. According to Cooper, he and the dolphin had a very close relationship and Freddie was very attached to him, to the point that if he tried to leave early the cetacean would try to block him. Dolphins are very intelligent and are able to recognize human faces and understand their mood through gestures and tone of voice, which is why it is not impossible for a dolphin to become emotionally attached to a person that it sees continuously.
On September 28, 1990, a week after his visit to Flamingo Land, Cooper was swimming with Freddie when a boat full of people approached, among whom he recognized Bloom's voice. In his blog Dolphin Lover, where he told the whole story from his point of view and where you can find long descriptions of his relationship with the dolphins, both in prose and in poetry, Cooper recounts that moment like this: «The boat remained nearby for about thirty minutes. Freddy was the usual, sometimes he would hook his penis onto my leg or my arm, it was all perfectly normal, at least for me."
In fact, Cooper claims that Freddie also did it with other human beings to make them swim with him, and that the act did not have a sexual component. He had never found anything strange about it and said that it would not be correct to judge the behavior of a non-human animal under the lens of human morality and logic.
A few days later his friend Gordon Easton, a boat mechanic who had approached him while he was swimming with Freddie, told him that the police had asked around about his relationship with the dolphin, as various people on the boat, including Bloom, had reported him accusing him of having abused Freddie. One of the passengers told police that Bloom had loudly exclaimed not to get too close, claiming that Cooper was performing a sexual act on the dolphin. Easton reassured Cooper that he had said in his statement that Freddie was behaving towards him the same way he was behaving towards other people who approached him, and told him that the police probably would not waste their time investigating such an accusation. absurd.
Instead, in December 1990 two police officers showed up at Cooper's house and arrested him on charges of having committed obscene acts against public decency and of having sexually abused a dolphin. In the podcast, the lawyer who was assigned to him, Guy Otten, recalls that at the station they struggled to find officers who could remain serious while interrogating Cooper. He too had initially found the matter "extremely funny." However, when the police told them that the main accuser was Bloom, both Cooper and Otten (who had already defended animal rights activists, albeit for different reasons) thought that it was no coincidence that the man who owned the business that Cooper was trying to take over closing the water park was the one who had reported it.
Meanwhile, the British newspapers began to pay a lot of attention to Freddie's story and to make fun of Cooper, so much so that it was also known abroad. The Sun, the most read and also the most unscrupulous tabloid in the United Kingdom, put the case on the front page and shortly after everyone started writing about it. According to Milligan, this attention was not only due to the strangeness of the matter, but also to the fact that "it was an exciting story of alleged perversion in a period of economic depression and political uncertainty".
During the trial, which according to Cooper was held to discredit the environmental movement of which he was part in years in which organizations like his were very active, the defense supported the thesis that Bloom had exploited his position as a marine biologist to convince people on the boat that there was something wrong with the activist's relationship with the dolphin. His goal would actually have been to stop him from protesting so actively against Flamingo Land, something Cooper continued to do even after the accusations, even though his reputation had been tarnished.
Bloom instead claimed that he was a great lover of dolphins and that he had only acted because he was worried about Freddie's safety. In the end, Cooper was declared innocent: the testimonies of the other passengers who had accused him turned out to be inaccurate and contradictory and some of the people on the boat said they only saw Cooper caressing the dolphin's belly. Depositions, such as that of Easton, were also decisive, claiming that Freddie behaved in the same way towards Cooper and the other swimmers.
However, despite the sentence, Cooper did not recover for a very long time. As Milligan explains, "His raison d'être was to help people and take care of animals. Alan had a reputation in the animal rights movement and to be accused of abusing the very thing he was trying to protect was extremely damaging."