Cabbage. (bodybuilding)
Himedik.com – Flatulence disrupts activities and triggers a continuous feeling of discomfort. Of course, this is caused by many things, one of which is food. In this article you will get clear information about what foods cause flatulence, so you can consider limiting their consumption.
1. Several Types of Vegetables
In general, vegetables are foods that are recommended for regular consumption. However, several types of vegetables can trigger bloating, such as broccoli, cauliflower and cabbage.
Therefore, don't consume too much of these types of vegetables if you want to avoid the uncomfortable sensation of bloating.
2. Apples
There are many well-known sayings that make apples a very healthy fruit to consume, because they are rich in vitamin C and antioxidants. However, the fructose and sorbitol content in it can produce excess gas.
However, this does not mean that you are not advised to consume apples. Just don't overdo it and check the amount of consumption by asking your trusted doctor.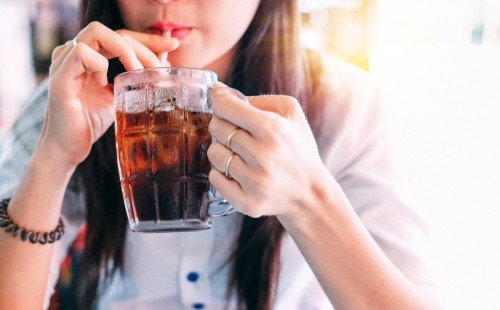 Illustration of drinking fizzy drinks. (Shutterstock)
3. Various Soft Drinks
Quoting from Healthline, consuming too many fizzy drinks can make the stomach feel bloated. This is because fizzy drinks contain a lot of carbon dioxide in them, which can trigger excess gas production in the stomach.
At normal levels, consumption of this type of drink is fine. Again, as long as you don't drink too much.
4. Types of Fatty Foods
Do you like consuming junk food? Yep, this type of food is the next food that causes flatulence to be wary of. It does taste delicious and is quick to serve, but because of its oil and fat content, this type of food is one of the most popular bloating triggers.
In people with irritable bowel syndrome, this type of food can also trigger stomach ache and diarrhea.
5. Too Many Onions
The next food that causes flatulence is onions. One of these kitchen spices is almost always included in the composition of delicious food, and is even added as a complementary topping. However, consuming too much can trigger an uncomfortable bloating sensation.
That's it, at least 5 foods that cause flatulence that can be explained in this short article. Of course there are many other types of food that can trigger this condition, but as long as consumption is within reasonable limits, it will not cause health complaints. Hopefully this is useful and happy continuing your activities!