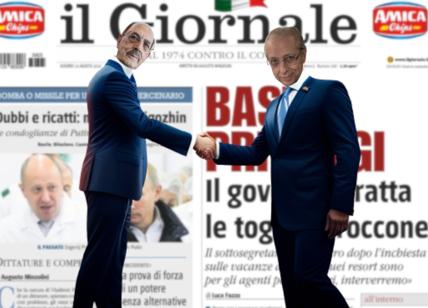 Paolo BerlusconiAntonio Angelucci
Paolo Berlusconi, his safe in deep red. The sale of "Il Giornale" is a godsend
The purchase of "Il Giornale" by the Angelucci family formalized a few weeks ago is a real godsend for Paolo Berlusconi. A few days ago, in fact, the daughter Alexia in his capacity as president of Pbf, the family safe, led the shareholders' meeting which approved the 2022 financial statements closed in deep red both in the ordinary and in the consolidated. Pbf sees 99.7% of the capital in the hands of father Berlusconi both directly and through Luna srl ​​and the remaining 0.3% held by his daughter.
READ ALSO: FI, Berlusconi: from Silvio to his brother Paolo. The hypothesis of running him for the Senate
In detail the consolidated ended up in the red for 11.3 million euros, far worse than the deficit of 7.5 million the year before, a loss largely due to the devaluation of the main subsidiary, See-Società Europea di Edizioni (publisher of "The newspaper") which closed last year in the red for 12.2 million. Among others holdings of Pbf include Laboratorio Ulisse, Seg and Sisvi.
READ ALSO: Lisanza, 4.7 million in debt: towards the composition proposal
Consolidated revenues year on year they dropped from 24.8 to 23 million (almost all are See's revenues), l'ebitda on the negative side it doubled from 5.8 to 10.5 million and likewise the Ebit worsened from -6.9 to -12.1 million. At the end of 2022, the group had bank credit lines available for 11.7 million. Turning to ordinary balance sheet the loss it was 7.6 million, slightly worse than the previous year, which combined with the previous losses (over 1.88 million) was covered by 9 million in shareholder payments. The explanatory note to the financial statements reports that the purchase of 70% of See by Tosinvest of the Angelucci saw the price based on an enterprise value of 25 million.
Subscribe to the newsletter