One of the great performances of this first night of 'La Voz Kids' Battles was starred by Rubén, Lucía and Ismael. David Bisbal's three talents performed the most flamenco Battle of the edition. So much art to the rhythm of 'I forgot to breathe'!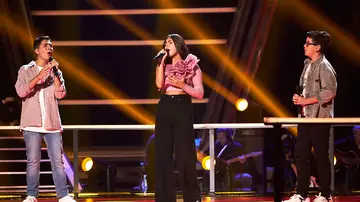 All three were excellent. The coach from Almeria has shown himself to be very proud of his talents, some "wonderful children" who are always present in each edition of 'La Voz Kids'. And Bisbal is grateful to be in the front row of the dreams of these little artists.
La Mari de Chambao, Rosario's adviser, could not avoid pointing out, probably, her favorite editing talent. She has apologized to others for extolling Lucía and her vocal ability, since she has all her records.
"You have a universe in your throat", the artist has assessed a Lucía who has not stopped thanking La Mari for her words. Just brutal!