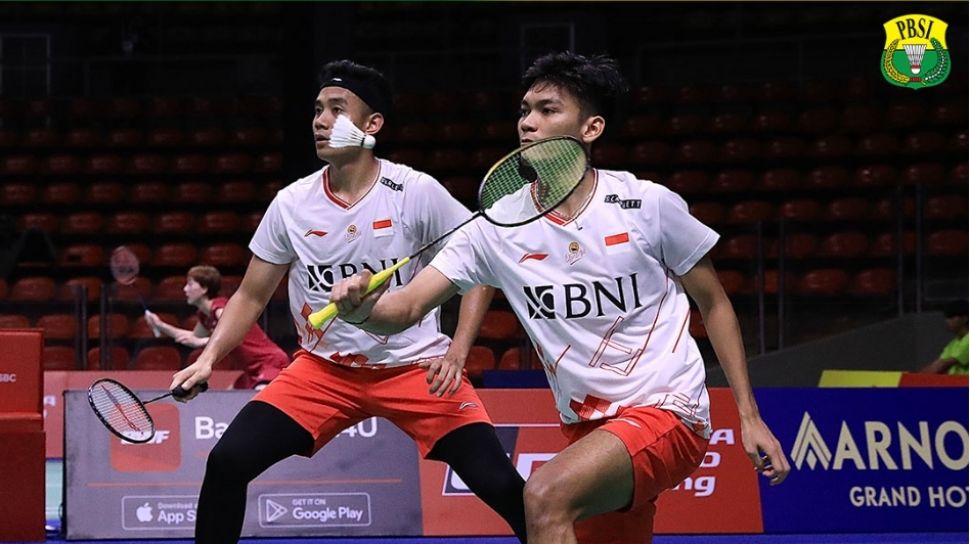 Suara.com – The Indonesian Badminton National Team had to be content with bringing home a runner-up title from the BWF Super 500 Thailand Open 2023 in Bangkok, Sunday (4/6/2023).
These results were presented by the men's doubles Bagas Maulana / Muhammad Shohibul Fikri who lost at the hands of Liang Wei Keng / Wang Chang from China.
Bagas/Fikri finished the final against Liang/Wang with two straight games 10-21, 15-21 in 27 minutes of action.
Bagas/Fikri have been under pressure since the first game. The Indonesian duo could only compete up to a score of 3-5, because afterwards they were left behind by eight consecutive points.
Also Read: Thailand Open 2023: Bagas Maulana/M. Shohibul Fikri Advances to the Finals
The Liang/Wang pair controlled the game through the serves they played at the start of the rally. The Chinese pair forced Bagas/Fikri to play lobs or lift the shuttlecock.
Bagas/Fikri's high returns are easy bait for Liang/Wang to create smashes or cross punches that are difficult to block.
Not only that, as a result of being under pressure, Bagas/Fikri's game became uncomfortable so they had difficulty controlling their shots. Their returns also often leave the field so that it gives an advantage to the opponent.
Difficulties returned to the 14th-ranked pair in the second game. Changing the position of the field apparently did not make it easier for Bagas/Fikri to improve the results of the opening game.
At the start of the second game, Liang/Wang tried to play it safe and build a defense from the front zone.
Also Read: Thailand Open 2023 Live Streaming Link: Marcus/Kevin and Bagas/Fikri Aim for Tickets to the Finals
Apparently this strategy was not anticipated by Bagas/Fikri who continued to play insistently and tried to suppress.
Unfortunately Bagas/Fikri's efforts were fruitless and made the third seeds Liang/Wang play comfortable because they only gave returns.
After the interval, Bagas/Fikri's attack relaxed, which was then read by the opponent. Liang/Wang returned to playing aggressively like the first game and forced Bagas/Fikri to take shots or lobs.
In a pressured position, Bagas/Fikri became the butt of the sixth ranked pair and thickened the point difference to 10-17.
Bagas/Fikri's repeated attacks left them unable to move and finally had to hand over the title to Liang/Wang after fighting for 27 minutes.
With that result, the Red and White Squad failed to win a title and had to settle for winning a runner-up position from the men's doubles.