The first Battle between Emma, ​​Andriy and Barbare left us with a very emotional moment. The three talents from David Bisbal's team have given us a real show singing 'Cry me out'. And the man from Almería, with many doubts in the face of such a complicated decision, opted for Emma's voice.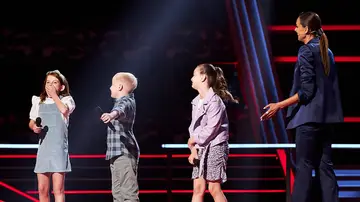 The little girl has broken down to cry inconsolably for going to the Assaults. They are tears of joy, a reward for all the work she has behind her. The coach sees a special sensitivity in Emma's voice, and believes that she has been very consistent throughout the song.
But the talent does not see it that way. The little girl couldn't stop crying and she confessed her surprise at being chosen by Bisbal because she thought she was going to choose Andriy or Barbare since she… she had made a mistake in the song!
"When I was rehearsing, something would always go wrong and now it has also gone wrong, but it seems that it has not been noticed," said Emma, ​​tearfully. Meanwhile, on stage, Andriy has highlighted how well his partner did in acting. Relive this moment!