With the advent of graphic generative Artificial Intelligence tools, some designers have seen the ears of the wolf. Midjourney, Firefly, Stable Diffusion and company are sometimes seen as a threat to the work they do.
In other cases, the reaction takes very different paths: that of designers who consider that these tools are, above all, ways to get your work done faster or with higher qualitybeing able to focus on the creative process, not on the red tape.
And we wanted to interview some members of this second group.
Potential for intermediate steps, not just final images
Nekodifier, audiovisual creative and independent content creator, who, although he has gone through creative agencies and companies like Red Bull, now only works for himself. And he uses this wave of AI-based utilities to his advantage.
"When I see these tools arrive, I have a mixture of feelings. On the one hand, that of a threat that is already real. On the other, that its quality already allows many processes to be replaced," he tells us.
And indeed, he began to use them. "People usually use Midjourney to generate final images, but many of us see its potential to modify small assets that can be used in fine work. For example, the background of a poster, I generated it as a basic sketch of buildings, shadows, lights… And I passed it through Stable Diffusion to give it the touch cyberpunk that i wanted If I had had to do it from scratch it would have taken me several days. With the AI, the speed is a x10. Stable Diffusion gives you a lot of control, it's like going from Paint to Photoshop."
He gives us some images to exemplify this process. The aforementioned background of a poster, before and after going through Stable Diffusion.
Left, before. Right, after. Image: Nekodifier.
And the process to insert it to the final poster, including the touch of Photoshop.
Image: Nekodifier.
"The final work comes from a human, but for the intermediate steps, this makes the process much easier. Or for tedious tasks. For example, cleaning up images. Many times a lot of time is wasted on that, deleting people in front of a building. It requires skill, you have to rebuild the background with pieces of the image or sometimes even a different one. Now with Adobe Generative Fill it is literal: you click on a button and it touches it up", he adds about photographic editions. "Or in videos in which you have to clean the background, until now it was complex; Now it's done in seconds."
An example of this type of cleaning, recreated by ourselves, who are not design professionals. We have timed the time it took to remove all the players from the pitch: one minute and fifty-two seconds.
And another, accomplished in one minute and fourteen seconds.
And a phrase from Nekodificador that sums it all up: "This is going to take away a lot of tedious tasks, it lets me focus on the creative process."
"Speed ​​up processes and conversations"
Alicia Blazquez Senior Digital Designer at Saffron, a brand consultancy, explains that his team is beginning to test AI tools internally, and also on ongoing client projects about which he cannot share information because it is confidential.
What he can share with us are his initial impressions and the reception he is having among those clients: "We have begun to use them to streamline processes and conversations. For example, we use sketches made with Midjourney to illustrate scenarios and speed up approval with the client, prior to carrying out the creative work. It is not about replacing work using AI, but using it as a tool that facilitates conversation and allows us to work with sketches that are close to the result we are looking for."
The reactions so far are positive, with quite a dose of curiosity. "Certain processes are positively streamlined. Instead of showing a client references about the line we want to use, textures, scenery… We can show him all those references applied in the form of a sketch. Obviously there is an effort behind it, to get to that sketch we define absolutely all the parameters and through prompts we find a result that helps us illustrate our idea. As design professionals it's also made us curious, so individually many people on the team are exploring different tools."
Although they still consider the use of tools as something that requires supervision and some caution, they understand that they are here to stay and that is why they have launched Saffi, their Artificial Intern (artificial intern), the solution that combines the use of these tools, from GPT to Midjourney through Perplexity or Jasper, to, once again, streamline processes.
Armando Sotoca, Senior Lead Designer and contractor in two Spanish companies, has been in love with Midjourney for almost a year. Since then he has generated more than 4,000 images for different fields… and clients.
"I don't see it as a danger, I see it as a brutal competitive advantage. He has come to help us, what used to take us many hours or we didn't even know how to transfer to a design on the screen, now it takes us minutes, using natural language. No complex commands or menus," he says of this tool.
This Midjourney enthusiast has spent months sharing on his Twitter account some tests and lessons, such as his progress with studio photography with color gels.
Image: Armando Sotoca.
Or with stroboscopic photography.
Image: Armando Sotoca.
Or his advances in aerial photography to achieve photorealistic and spectacular images.
Image: Armando Sotoca.
Or the double exposure effect.
Image: Armando Sotoca.
Images like these are not only part of your personal fun, but also part of professional projects. "One of the companies I work for gives us material to prepare creatives in different locations. That material was not adapted, it did not fit in all formats, and we had to do retouching, or fix blurred backgrounds… As soon as I saw the possibility of use the outpainting [capacidad de extender imágenes usando IA] at Dall E, I saw that this would have an impact when creating campaigns. And so it has been. It has allowed us to save a lot of time adapting assetsmaybe 70% of the time".
Now, with the newly announced Adobe Generative Fill, it's testing to clean up images. "I have a client in the sports retail sector, they usually prepare outdoor photo sessions and we had to spend a lot of time retouching to remove people in the background, imperfections on the road… Now it's instant."
The time savings also extend to the savings in other types of costs, such as logistics. "A company I worked for has a strong presence in Latin America. We tried to tropicalize the campaigns as much as possible, but we didn't have the budget to look for actors and actresses from Peru, Mexico, Ecuador, etc. Now, based on a certain image of a Spanish woman with black, for example, I can modify its features to adapt to those of each country. It is already possible". That was done with Playground.ai because at that time Midjourney was not yet as powerful as it is now.
"It's a train that you have to catch, it's a tool," explains Tito Maldegorf, creative director at his own design studio. "It's like when digital photography came along, I worked with people who didn't want to stop using film," he says, referring to those who reject AI.
This Madrid-based designer from Granada is already making the equivalent leap, using AI: "I have run campaigns using Midjourney. Just as it has been done with Getty or Shutterstock, improving it with Photoshop. The campaign itself is not so much the image as the concept, the idea."
So see these tools as supports for what is still a human task: conceptualization. "With Adobe, you can even ask it to generate size adaptations for all social networks from a square image. That kind of thing can take away the work of an intern who is helping you. For 70 euros per month of subscription, you take off a payroll. But at the same time, that intern can do other types of work for you. There are two ways to guide it."
Add the nuance of the intern because it is not only necessary to write a good promptbut often requires further work. "In Midjourney you do something so that a campaign starts from there, but if you need large signage you need to rescale, correct with other applications… It's not as easy as they paint it. If they ask you to design a car for a campaign and the client asks you correct a detail, or change its angle, you need to know how to edit… Although with what Adobe has just presented, it may be solved".
Some creatives generated by Tito for his personal learning (his works for clients cannot be published). Image: Tito Maldegorf.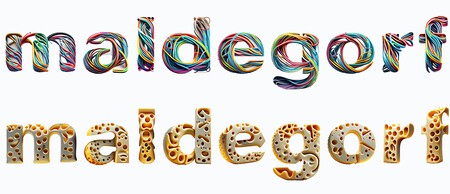 The name of Tito's studio, adapted via AI so that the letters emulate colored wires or pieces of cheese. Image: Titus Maldegorf.
And in another professional profile something different is miriam garcia, Digital Marketing Manager at the Perrigo pharmaceutical laboratory and part of Goglitch, a digital marketing agency that is in its infancy. In it, he performs tasks related to SEO or copywriting, but precisely the tools based on AI have allowed him to open new lines of business.
"I have been able to open the branding and graphic design part because I have these tools despite not being the core of my business. This implies lower costs for the client, and for me a line of business that did not have". Miriam's most used tool is Uizard, which allows her to transform freehand sketches into concepts for web interfaces or applications.
"I am transparent with my clients, I explain to them what we generate with AI and I tell them that this always has a professional validation behind it, filtering, corrections if necessary… Now, for example, I am creating a visual identity for a school of martial arts. I save a lot of time by giving Midjourney specific instructions to be able to at least establish the starting point of the logo. That it has an oriental style, that it evokes a dojo, that it includes the two letters of the name, etc".
Regarding the type of work that can enhance or replace the use of these tools, he believes that they fit into a very specific job profile. "I realize that this is not going to have the same value as something created from scratch by the talent of a professional, and the costs are not going to be the same. But perhaps it is something for different types of clients: a business that is starting You can resort to this, and if it goes well and it scales, you can invest in a rebranding with a more professional design", says Miriam.
And it ends with a sentence that reflects a feeling: "I understand that there may be people who feel threatened, but it is our duty to retrain ourselves as professionals. Staying on the sidelines does nothing for you."
In Xataka | What's new in Photoshop with AI is going viral: This is how it's being used to create non-existent parts of almost any image.
Featured Image | Xataka with Midjourney.