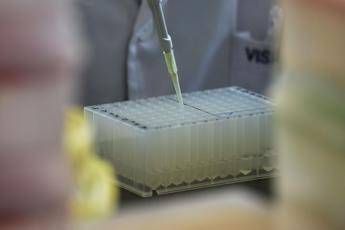 A new, targeted combination of existing anticancer drugs and high-dose vitamin C may be effective against the most aggressive and resistant lymphomas to current therapies. This is demonstrated by a study by the European Institute of Oncology, coordinated by Bruno Amati and Giulio Donati, recently published in the journal 'Embo Molecular Medicine'.
"This research marks a fundamental step towards the treatment of those forms of B lymphocyte lymphoma for which current therapies are not very effective – explains Bruno Amati, Division director at the Department of Experimental Oncology at IEO – We have demonstrated in preclinical models that the addition of vitamin C in pharmacological doses to Iacs-010759, a drug with pro-oxidant action, significantly slows tumor growth. This latest work, which follows the one published in 2022, extends our understanding of the mechanisms of action of Iacs, allowing us to exploit them to propose a new targeted combination with ascorbate, or vitamin C, capable of selectively eliminating – he underlines – lymphoma cells".
This line of research stems from previous studies on the Myc protein, in which Amati's group was a pioneer: Myc is a key protein in cell proliferation and, therefore, in the onset and progression of cancer. The overexpression, i.e. the excessive presence, of Myc is related to a greater activity of the mitochondria, which become indispensable for cell survival. Thus lymphoma cells that overexpress Myc become vulnerable to treatments that block mitochondrial activity, such as Iacs-010759.
"In this latest work we demonstrated that the sensitivity of cancer cells that overexpress Myc to treatment with Iacs is based on oxidative stress – says Giulio Donati, first author of the study – Myc overexpression and treatment with Iacs work together to increase the oxidation in cells.When this occurs simultaneously, oxidative stress is exacerbated, activating cellular stress response mechanisms that lead to cell death.Based on the scientific literature, we also knew that high doses of vitamin C increase cellular oxidation. We then treated the Myc-overexpressing cancer cells with IACS and high doses of vitamin C: this 'mix' proved lethal for them."
"We demonstrated that the oxidative stress induced by Myc overexpression can be further potentiated by co-treatment with Iacs and high doses of vitamin C. Myc expression could therefore represent an efficacy marker for treatments based on pro-oxidant drugs. These results – concludes Amati – pave the way for future studies aimed at testing vitamin C in combination with other pro-oxidant anticancer drugs, both to increase their efficacy at lower and safer doses, and to extend it to the treatment of resistant tumors. to current therapies"."