The choice of Zerocalcare to open this new animated series for Netflix appears somewhat emblematic, gathering the criticisms of those who – most likely – have filled their mouths with words, without even having seen the story: "Zerocalcare doesn't say anything new, it's the usual repressed sinister, it's all spoken in Roman, nothing is understood, Roma Ladrona" and more, with a clear gap in the audience among those who loved the opera, drawing the message and who, on the other hand, was too lazy to look at it carefully. Someone who maybe is active on social media and wanted to let us know that Tearing along the edges was silly and wasn't worth the time of viewing, that behind it was the usual conspiracy to forcibly inculcate political correctness in us. From here we come to the title of this second work, This world won't make me badwhich takes its cue from the fingertips, those yellowed by countless sticks of nicotine and visceral hatred towards everything: don't make us badmore than, perhaps, we are not already.
The new Zerocalcare series – of which, thanks to Netflix, I was able to preview most of the episodes – is a direct evolution of Tear along the edgesa second-level Super Saiyan who explodes, outclassing the first, because the champions, if they have a good word and pencil, emerge immediately and clearly, the rest is crap. A champion can also take a penalty kick and make a mistake, send it high, and it is precisely at that moment that the spectator wants to stretch out his arms to that pigtail, stay close to Baggio, heartbroken in front of the immaculate goal and the ball elsewhere.
Zerocalcare is Baggio, who finds himself experiencing a moment of strong discomfort in his neighborhood, one of those moments when our ethics say we are right and our actions are legitimate. The enemy is outside, yet the world seems to show us the opposite, that is, however – hypothetically – our actions are right or wrong, more often than not what we are, what we say, who we attack or love, springs from from a discomfort that eats us from within and that if it is not yelled at or vomited at someone, it will remain as heavy as a boulder hidden in the ribcage.
Aesthetics and animation work have benefited from greater care as has the narration, always rich, unpublished, never repetitive, albeit with some flight of fancy that still reaches the goal. On the other hand, the emotional price to pay is much greater.
A bit like the crust of a wound that hasn't completely healed, this story of neighborhoods, of friends who have enormous weights on their chests, of others who return after long periods of absence, come to terms with those who have it done, with Zero who among all has been successful, but has lost that desperate sense that everyone clings to in order to move forward day after day.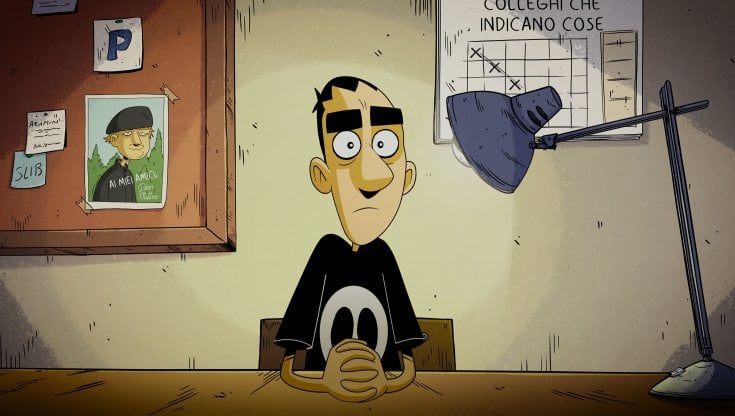 Those who look forward try to survive but risks losing something important along the way, not seeing who's in trouble and understanding those difficulties. The most important aspect of this taste of episodes is that being Superman in a world full of criminals is extremely difficult, but we could try a new path: understanding.
Understand what makes the world badand how this malice is reflected in web and social spaces, in street fights, in the consideration we have for each other.
Can't wait to watch the rest of the episodes This world won't make me badbecause that scab that hides a still open wound returns overbearingly: for now I have scratched the surface, something has broken and blood is coming out, the emotion I felt at the end of each episode was that of disappointment, because I felt this series was speaking to me and my "enemy", making us equal and immature at the same timewith the same blood flowing from the same wound.
Previous article
Syberia: Microids and What the Prod announce the animated series