David Bustamante and Álex Casademunt managed to turn 'Two men and a destination' into a hymn. Agustín Jiménez and Raúl Pérez have imitated the version that the Cantabrian singer did with Sergio Dalma, but the memory of that original song has been very present on the set. It has been an explosion of emotions especially for two people: Merche and Chenoa, as seen during the performance.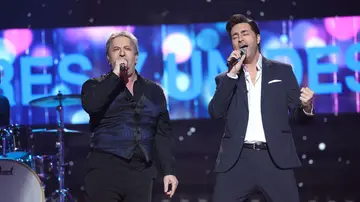 For this reason, after the number, Manel Fuentes has stopped the course of the program for a moment to come closer to comfort Merche. The contestant burst into tears when she stated: "This song is Álex Casademunt." Feelings have also overflowed in Chenoa: "We took a look at the beginning and obviously…". The singer has not been able to continue speaking.
Merche recalled that this song was published just when she and Álex began to be dating, a relationship that later lasted five years. Looking at the sky, she turned to him to say: "I love you!" Discover this emotional moment in full in the video!