Susi Caramelo has faced a maximum risk performance at gala 10 by imitating Marisol. As in the movie 'A ray of light', the contestant has had to sing while riding in a carriage pulled by a horse. She herself was afraid of falling into the pit! Fortunately, she has escaped unharmed in a hilarious number full of anecdotes.
The main objective has been fulfilled: it has transmitted joy. Susi has shown her talent as a comedian in a number that she has filled with gags. The button wanted her to be a girl again, after her imitation of Enrique and Ana, and the characterization team has given her a grotesque touch by putting her false arms and legs.
Between this image and his falsetto voice, it has been impossible to stop laughing throughout the performance. Even the times that she has lost the rhythm or has forgotten the lyrics have contributed to an imitation that goes directly to the classification of the funniest.
In the jury, Lolita was seen covering her ears while Chenoa came to tears from a fit of laughter.
Susi has even had a detail as hilarious as it is endearing when she began to sing 'My car' by Manolo Escobar. Of course, this child prodigy has been in great danger as a driver when she was about to run over the jury and Shakira. Relive it in the video!
Andrea Guasch has been in charge of opening the gala with an imitation of Shakira to which she has put a lot of strength and sensuality, starting with the brief tango that has been marked with Borja Rueda, one of our dancers.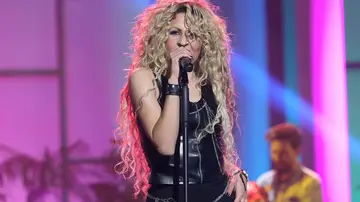 With 'I warn you, I announce you', she has become a warrior to clearly win. Probably the best Shakira seen in 'Your face sounds familiar'.