'Mask Singer' continues to surprise us with each gala, and in the last program we discovered the identity of two masks: Bo Derek was hiding under Sirena, and Naty Abascal was the iconic Banderilla. What a surprise!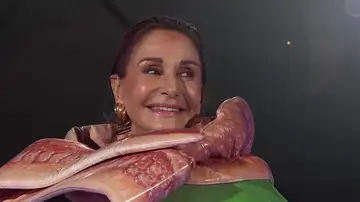 As usual, the unmasked have gone through the impossible 'Mask Singer' test to get to know them a little more thoroughly. Naty Abascal, although she has hesitated a bit on some questions, has left us some reflections that everyone should listen to.
Travel to the future or the past? Naty Abascal is clear about it: "You always have to go forward, I've already lived the past," says the haute couture model. She has also pointed out that, despite being hooked on some series, it is very important to read books because not everything is taught on television.
"You never have to stop reading books," says Naty Abascal forcefully. Discover this and other answers that he has given in the video!