The Kilauea volcano, one of the five volcanoes on the island of Hawaii, erupted yesterday. It did so during the early hours of yesterday, at 4:44 a.m. local time (4:44 p.m. peninsular time, CEST) as explained by the United States Geological Survey (USGS).
The eruption occurred in the Halemaʻumaʻu crater, in which geologists have already detected several active "sources". The height of these lava jets has been descending from the initial peak, although they exceed four meters.
The USGS is closely monitoring the situation and has released numerous impressive photos of the lava lake that has flooded the crater. This rocky lake covers an area of ​​1.5 square kilometers and already reaches a depth of 10 meters according to the latest data from the American authorities.
In its notice, the geological service has taken stock of the risks that this eruption could pose for the population of the island and its surroundings. The main risk has to do with the gases emitted by the eruption. The main gases emitted are water vapor, carbon dioxide and sulfur dioxide.
It is this last gas that can cause the greatest risk to human health. this gas cause what they call moisturea fog caused by volcanic smoke. Fog not only poses a risk to people by inhaling it, but also by affecting crops, plants and livestock.
Small rock particles ejected by lava fountains can also pose a risk. This matter can cause irritation when it enters our mucous membranes and respiratory tracts and can also travel several kilometers carried by the wind.
United States Geological Survey (USGS).
United States Geological Survey (USGS).
Images of the lava lake during the first hours of the eruption. United States Geological Survey (USGS).
Volcano crater during the early hours of the day. United States Geological Survey (USGS).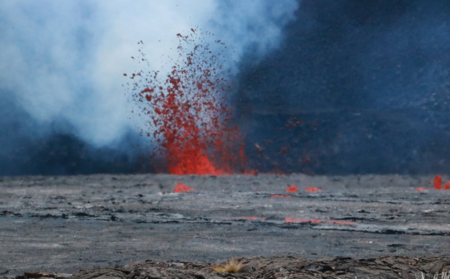 Fountain ejecting molten rock. United States Geological Survey (USGS).
Daytime view of the crater. United States Geological Survey (USGS).
It is not the first time that this volcano has erupted, leaving us with beautiful and fascinating images. The geological service has also created a live video to follow the evolution of the volcano through its YouTube channel.
Kilauea is a shield volcano. These are formations created from soft eruptions that create successive layers of basalt rock. The volcano is located on the slopes of the largest volcano on Earth by volume: Mauna Loa.
It is one of the most active volcanoes. Geologists estimate that 90% of the surface area around this volcano is made up of "young" lava flows (that is, from eruptions that occurred approximately in the last millennium). 20% of this surface comes from eruptions given in the last 200 years of volcanic activity.
The Kileauea lava emerges at a temperature of about 1,170º C, a temperature somewhat lower than the that the magma in the tubes reaches, about 1,250º C.
In Xataka | A volcano in constant eruption: the Nevado del Ruiz has become a constant problem for Colombia
Images | USGS