The PC and laptop market is so bad that not even Apple is safe. In fact, the Cupertino company sank more than any other manufacturer in the first quarter of the year, but things are not only going badly in preconfigured equipment: the fall is also being severe in graphics cards.
swooping. As revealed in Tom's Hardware Guide, sales of standalone graphics cards to end users are dropping noticeably. The latest data from the consulting firm Jon Peddie Research reveals that 6.3 million units were sold in the first quarter of 2023, 12.6% less than the previous quarter and no less than 38.2% less than in the same quarter. period of 2022.
The worst number in decades. According to the analysts responsible for the study, these are the lowest quarterly sales in decades. The report states that "Shipments of new AIBs (Add In Boards) have been affected by the decline in the PC market due to concerns about inflation and layoffs, and by the purchase of next-generation boards by from suppliers to reduce their stocks".
Intel is not that bad. The semiconductor giant is beginning to bear fruit from its efforts in this field, and its Arc Alchemist dedicated GPUs have managed to capture 4% of the market, a remarkable figure considering who it competes with and the advantage that both NVIDIA and AMD have. in this segment. Unlike its competitors, it is growing, although its situation is certainly different since its activity in this segment is very recent.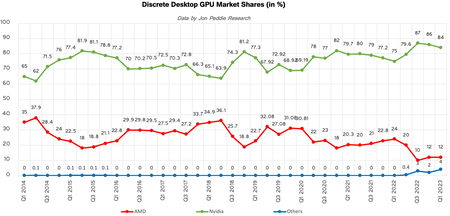 NVIDIA continues to dominate. Jensen Huang's company is the absolute protagonist of this market: its share in the first quarter of 2023 is 84%. Despite this, its 5.29 million GPUs sold for desktop PCs is a very poor figure: the worst for NVIDIA in many years.
AMD hasn't quite recovered. The launch of its Radeon RX family has encouraged the market, but even so, this manufacturer continues to lose market share against its main competitor. In the first quarter it is at 12%, and it sold 0.76 million graphics cards for PC.
That fall from the first quarter of 2022 may have a special protagonist: cryptocurrency mining.
Crypto mining involved? Another possible factor in that sharp drop in sales that occurred from the second quarter of 2022 could be cryptocurrency mining. In September of that year, the famous Ethereum "Merge" took place, which meant that this cryptocurrency could no longer be mined as traditionally, with graphics cards.
optimistic forecast. According to analysts at Jon Peddie Research, "the second half of 2023 promises to be better." AMD has reported that sales forecasts for its Radeon 6000 and 7000 in the channel – which it then distributes to enterprises and retailers – are growing, while Intel is committed to its next generation of GPUs – the Battlemage family – and NVIDIA has launched the RTX 4060, more affordable and more popular among gamers.
Image | nana dua
In Xataka: AMD Radeon RX 7900 XT, analysis: being born in the shadow of the XTX version does not prevent this GPU from being a beast