Suara.com – The new format for the 2023/2024 Indonesian League competition was welcomed by Indonesian football stakeholders. As is known, there will be new regulations used, especially for BRI League 1.
What is most in the spotlight is the Championship Series format which will bring together the top four teams in the BRI Liga 1 standings. So who will be the champion will really be determined until the end of the competition.
"One of the important elements of the competition is that we have to manage it as well as possible. It may not satisfy all parties, but at least step by step we have started this arrangement," said Zainudin Amali, Deputy Chairperson of PSSI when speaking at a discussion event held SeeJontor FC held with the theme "Indonesian League 2023/2024, New Format Profit and Loss" in Senayan, Jakarta, Wednesday (31/5/2023).
"Even for League 1, Mr. Erick asked for one of the foreign players from ASEAN. The goal is so that our football can begin to be known by the ASEAN community. Moreover, it is a good momentum 32 years since we have been waiting for the SEA Games yesterday," he said.
Also Read: Will Erick Thohir Be a Vice Presidential Candidate? Netizens Highlight Photo Positions Like This
The new format for next season's competition was also welcomed by League 1 clubs. One of them was Persib Bandung, represented by the CEO of PT Persib Bandung Dignified, Teddy Tjahjono.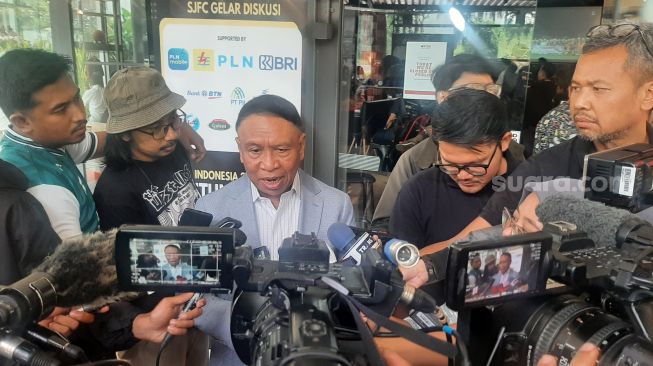 Deputy Chairman of PSSI Zainudin Amali when met in the Senayan area, Jakarta, Wednesday (31/5/2023). (Suara.com/Adie Prasetyo Nugraha).
"That with the top four means that the champion has not been discovered until the championship round is over. Like last season the 32nd week was already discovered. Of the majority of 18 of us, we see this as an interesting breakthrough that can make football an industry, but will have high values," said Teddy.
"What we and our friends imagine will definitely be added value (distribution of commercial subsidies to clubs). PT LIB also explains its future projections with this new format that future projections with this new format will indeed have a fixed contribution and variables based on ratings and rankings (TV broadcasts)," he explained.
The same thing was also expressed by Tigor Shalomboboy as the former COO of PT Liga Indonesia Baru (LIB). He sees that this new format can help clubs in League 2 to prepare themselves better, before getting the chance to be promoted to League 1.
"One of the components of a good competition is dynamic and you can't predict who will win. We are racing the quality of the club itself. Because if the club has good quality, the competition will automatically be good," explained Tigor.
Also Read: FACT CHECK: Officially, Persija Jakarta Brings Greek National Team Star Dimitrios Pelkas
"In my era, we ignored League 2 because it didn't produce anything. But we forgot that there were three clubs who had advanced to League 1. As soon as they rose to League 1, they were in a hurry."