What a gift it is to have Silvia Abril again in 'Your face sounds familiar'! Few contestants have made us laugh at the level she did on her season, and the set is filled with special magic every time she returns. She has shown it again this time in complicity with Susi Caramelo: they have become an exuberant RuPaul and a restless Elton John, and they have sung 'Don't go breaking my heart'.
This couple not only has not broken our hearts, but has made us fall in love. This number enters directly into the ranking of the funniest in the entire history of the program! The beginning has already been a great declaration of intent, with Silvia super diva and Susi assuring that she did not know more English than the lyrics of the song. "Okay, fagot, drop the music," said this RuPaul without mincing words.
It is impossible to summarize everything that has happened since, because it has been a constant succession of winks and gags and, therefore, a non-stop laugh. Silvia's freshness has been quite a boost for Susi, even crazier with this company. Press play to enjoy this unforgettable performance!
It has been a night full of stars and also with a Latin touch. That has been taken care of… Luis Fonsi! Actually, it was Jadel, but he has done it so well that at times it has been like seeing the Puerto Rican singer on stage.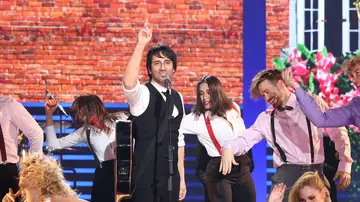 He has imitated him with 'Heart in the suitcase' and fulfilling an essential detail of the artist: his permanent smile. For this reason, the performance has been a constant of great vibrations.