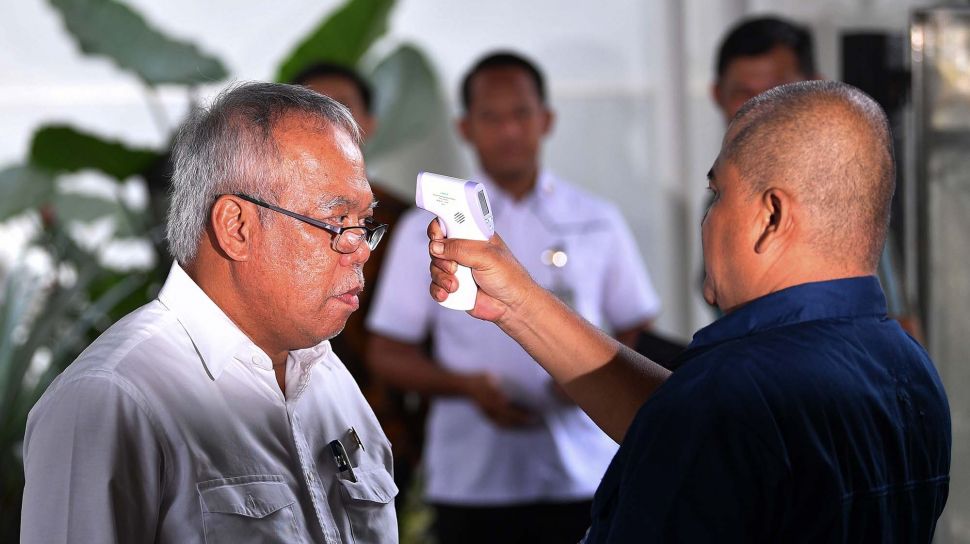 PUPR Minister Basuki Hadimuljono was mentioned in the Ganjar Pranowo vice presidential exchange by PDIP Secretary General Hasto Kristiyanto. Basuki, who is more familiar with Pak Bas's greeting, admitted that he did not understand why his name was included in the Ganjar cawapres exchange.
"I am a bureaucrat, so I also want to be 70 next year, I don't understand that," said Mr. Bas.
Basuki admitted that he would remain focused on carrying out his duties and obligations as Minister of PUPR. Furthermore, Basuki admitted that he would support the work carried out by DPR Commission V members.
Previously, Hasto Kristiyanto confirmed that the names of the Coordinating Minister for Political, Legal and Security Affairs Mahfud MD and Democratic Party General Chair Agus Harimurti Yudhoyono (AHY) emerged as the running mate for Ganjar Pranowo. Hasto said the name PUPR Minister Basuki Hadimuljono was also mentioned in the Ganjar vice presidential exchange.
Also Read: Yesterday AHY, Now PDIP Calls Basuki Hadimuljono Entering Radar for Vice Presidential Candidate Ganjar Pranowo
Furthermore, Hasto explained that Basuki's name stuck out due to progress in infrastructure in the regions. In fact, Hasto said Basuki was called the father of infrastructure by President Jokowi.
So, what are the features of Basuki Hadimuljono, who suddenly entered the radar for the Vice Presidential Candidate for Ganjar? Check out the complete information below.
Popular in Society
Basuki Hadimuljono or Pak Bas is one of the ministers who is popular among the people. This is none other than because of the privileges he has. In fact, in a joint meeting with Commission VI of the DPR with an agenda to discuss performance, IKN, and disaster relief, a number of DPR members praised the performance of the PUPR Minister and called him the best minister in Indonesia's history.
Best Minister Throughout History
Also Read: Refusing to be Tempted After AHY Entered the Radar of Ganjar Pranowo's Vice Presidential Candidate, Democrats Claim to Remain Loyal in Supporting Anies Baswedan
One of these compliments came from Andre Rosiade. The politician from the Gerindra Party said that Basuki was the best minister in history. In fact, he gave Basuki the nickname as the father of Indonesia's development.
Another compliment came from a member of DPR Commission V from the Golkar faction, Hamka B Kady, who considered that Minister Basuki had worked as expected.
Favorite Character Version of Indonesia Awards 2019
Basuki's popularity among the public has even brought him an award in the Favorite Character category at the 2019 Indonesia Awards.
Basuki Hadimuljono currently serves twice as Minister of Public Works and Public Housing (PUPR). The minister, who often appears in a simple manner, is known to always provide entertainment for the public.
Basuki Hadimuljono's achievements
During his tenure as PUPR Minister, Basuki succeeded in carrying out development and providing technological innovation or engineering in the housing and settlement sector, or improving the quality of housing and residential area infrastructure.
The details of his achievements in the development include:
– Development of Umbulan Regional SPAM (started in 2017)
– Renovation and construction of 33 venues in DKI Jakarta, South Sumatra and West Java
– Development of 44,893 flats throughout Indonesia
– Development of a Floating Library in Tambak Lorok Semarang, Central Java
– Utilization of Simple Healthy Instant Houses (RISHA) in the construction of schools in Aceh and houses in Lombok
– Construction of 473,165 self-help housing units
– Construction of 22,358 units of Special Houses.
Contributors : Syifa Khoerunnisa