Michael Jackson is probably the most imitated artist in the world. There are those who do it better, those who do it worse. Alfred García is in the group of excellence: he has done what is possibly the best imitation of the king of pop in the history of 'Tu cara me suena'. Also, with a subject as mythical as 'Billie Jean'.
You have to be a big fan of Michael Jackson to do what the contestant has achieved. Before the gala, he revealed what his secret would be and has staged it: "Intuit more than copy." Indeed, he has been carried away by his instinct and by his music, because he has internalized the artist very much since he was little and 'his brain blew up' when he saw him do the 'moonwalk'.
Ever since he's been on stage, Alfred was Michael. The way he walks, his iconic figure, his pose to kick off the number. Of course, also and indispensable, the characterization of the artist. Already, when he began to sing, he was the sumun: the members of the jury looked at each other, finding what they were hearing incredible.
Impeccable voice, with the unmistakable jogs and screams of the singer. And dance without fail, both in the opening solo and in the closing one. It is already the story of 'Your face sounds familiar'. Hit play!
Anne Igartiburu has also been wonderful, who has become romantic to become Francis Cabrel and make a whole song to love with 'Je l'aime à mourir'.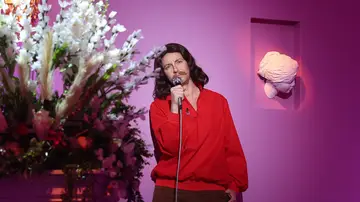 It is a delicious song in French that was so successful that countless versions have been made, also in Spanish with the translation 'I want her to die'.