Multiverses and time travel are narrative expedients that should always be used with caution, parsimony and only in cases of extreme "necessity" – even if something related to pure entertainment can be considered "necessary" – for example to relaunch a narrative universe after years of confusion and overlaps, as was the case with what is somewhat the progenitor of the stories based on the concept of the multiverse of the modern era, the comic miniseries 'Crisis on Infinite Earths' of 1985.
Today's pop cinema tends instead to abuse both concepts: let's think about how often time travel now creeps into franchises that aren't based on time travel, as it was for Avengers: Endgame, as it will be for The Flash and probably, by now it is almost certain, also for Indiana Jones and the Dial of Destiny, and to how much alternative timelines or parallel dimensions become expedients (sometimes even a little redundant, let's face it) to bring back old glories such as Michael Keaton, Andrew Garfield or Tobey Maguire. What does it have to add to the vein Spider-Man: Across the Spider-Versesecond episode of a trilogy that lays its foundations precisely on the concept of the Multiverse?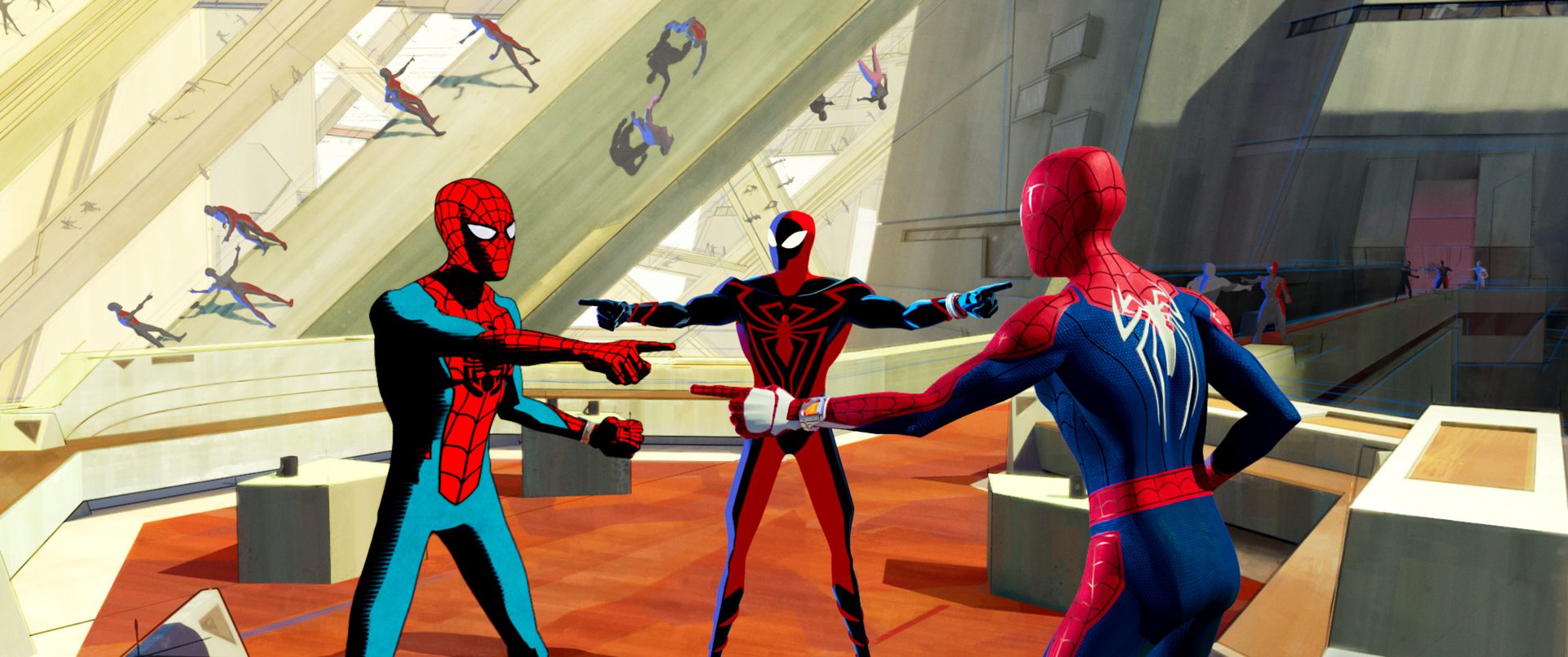 Spider-Man Across the Spider-Verse: Artentainment
Spider-Man: Across the Spider-Verse, as well as its predecessor Spider-Man: Into the Spider-Verse (acknowledged commercial and critical success and Oscar winner), is no exception, albeit for once, having no actors available as an animated film – but watch out for some surprises – it rather moves around the characters, always following the (debatable) principle that the more stuff there is, the better. It does so, and this must be said, with an impeccable and spectacular aesthetic.
On a macro level, and if we want more superficial and "gut", the film is functional and effective, it captures with tight editing, with lively images and increasingly daring visual styles, an adequate soundtrack and action scenes that make you beat the heart in a riot of colors and geometric shapes that don't leave many possibilities for attention drops, despite the important duration that borders on two and a half hours.
Many have not hesitated to call it "a work of art," and that is exactly what the film is aiming for: it is no coincidence that one of the first action scenes – after a long prologue on the life of Gwen Stacy/Spider-Woman, in a magnificent watercolor style that almost suggests an indie production, also due to the relaxed rhythms – takes place in the Guggenheim museum in New York, where a Leonardo-esque version of the Vulture, catapulted into the wrong dimension, wonders what art is and what isn't. And this movie? Is it art or just simple entertainment? Let's do Artentainment, and never talk about it again.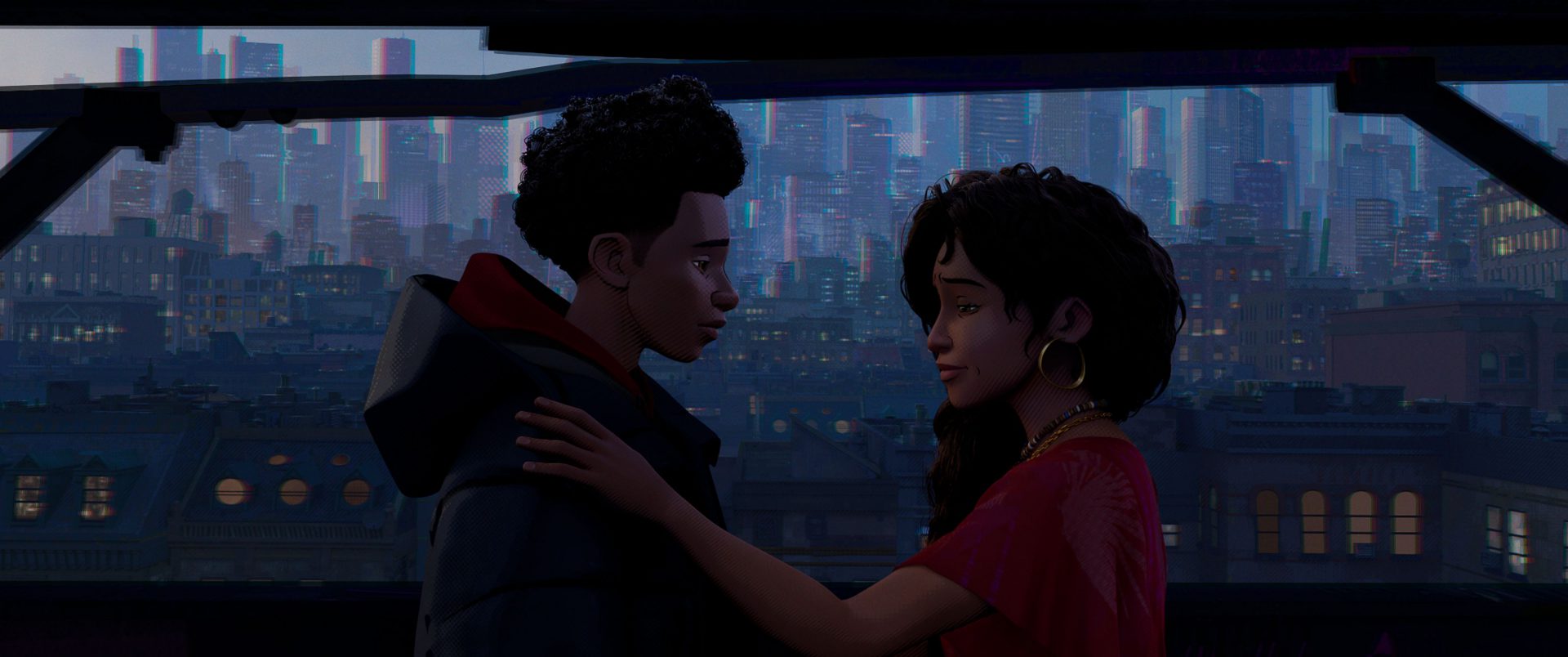 The heart commands…
Then the story continues, in a more or less delirious way like almost all stories based on the Multiverse, but still manages to excite us with the daily vicissitudes of Miles and Gwen, on the one hand lovers separated by a dimensional distance (but also by a secret relating to the first, which we do not reveal), on the other, each of the two are committed to keeping together the pieces of complicated lives, especially towards their parents.
The plot picks up a year after the events of the first film: Gwen is in conflict with her father, Police Captain Stacy, convinced that Spider Woman killed the Peter Parker of his dimension. The girl is called to be part of a team made up of various "spiders" from the most disparate dimensions, led by Miguel O'Hara, the 2009 Spider-Man.
Although she shouldn't – because of the aforementioned secret – Gwen can't resist contacting Miles, who is thus involved in a mission to save the entire multiverse from the criminal plans of Spot (The Blur), which if initially seems like a… speck… it soon acquires power assuming dangerous and disturbing connotations.
Miles, for his part, has problems with his parents, to whom he cannot reveal his secret identity. His father is also a police officer who will soon become Captain. Unexpectedly, Miles will soon find himself having to face the other super-spiders, due to different views on how to face danger and their own responsibilities.
To support him, however, there is also Peter Parker, his mentor from another dimension, now equipped with a little spider girl who always accompanies him… even into battle.
And here we stop for a moment to reflect, why exactly like its predecessor, the film, so strong in terms of visual rendering, unfortunately creaks in the face of the cumbersomeness of its narrative structure and under the weight of the theoretical onewhich also claims to have (and it's nice that it arrives), finally, the metaphor that associates the various realities of the multiverse to a dense web, with pivotal points, called 'canon', which are repeated for every existing Spider-Man, such as the death of a loved one).
…But the head responds!
As long as you keep your heart on and your brain off, everything runs perfectly, but if you go and analyze what is proposed to us a little, there is no shortage of logical gaps: It is implied – a wonderful idea – that each universe has a different visual style, but Gwen, without any explanation, visually adapts to Miles' universe when she passes through it, while all the others keep their original appearance.
Everyone pledges to keep their identities and those of others a secret – Miles calls Gwen 'Gwandoline' in front of her parents. Which is quite foolish since she is from another universe and no one knows her – but when they introduce themselves, to please the public, they do not hesitate to shout their first name loudly.
We take the trouble to dress the character of Ben Reilly (technically a clone of Spider-Man and not an alternate universe version, by the way) with a "skin" that recalls his comic book counterpart from the 90s. But the character acts like a caricature of him. So, is he the Ben from the comics or not? And why isn't the same trick used, for example, for the Spidey of 2099, which also has notable differences compared to its comics counterpart (the red cobwebs, the technological costume, but also a different background…)?
Miles, who proves to have superhuman strength on more than one occasion, doesn't even try to untie himself when a villain traps him with simple ropes.
And then, Peter Parker… with daughter in tow. Except that it doesn't make much sense to see him show up to a fight in his slippers (he wasn't forcibly taken from his reality this time. He had plenty of time to change), but to bring his one-year-old girl into battle, albeit with superpowers, it's not much from "power and responsibility".
In short, the impression is that behind an artistic sector of the highest level there is unfortunately the specter of a screenplay created following algorithms (from the series: "let's put something dads like") rather than Aristotelian logic (but it is a trait common to many films today, so we don't feel like blaming this film too much specifically). However, it's not over. Beyond the Spider-Verse arrives next year, and in fact the story ends in the middle, as in the days of Back to the Future II, when time travel was still the basis and not a gimmick. We look forward to it.