Suara.com – PDIP Secretary General Hasto Kristiyanto denied reports from Singapore's well-known media, The Straits Times, which said that PDIP Chairperson Megawati Soekarnoputri's relationship with President Joko Widodo or Jokowi was experiencing a rift.
Hasto assessed that the anonymous source interviewed by The Straits Times had political interests.
"The media is from narsum (source person). The narsum is not named, so it has certain political interests. Certainly from individuals who do have their own political interests, but in practice so far the relationship (Megawati-Jokowi) has been very good, " said Hasto in the GBK area, Central Jakarta, Sunday (4/6/2023).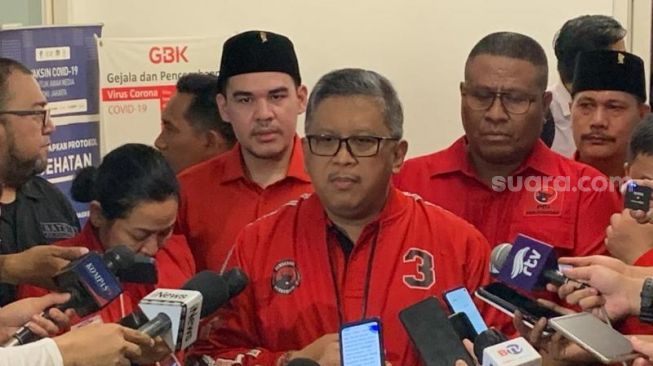 PDIP Secretary General Hasto Kristiyanto. (Suara.com/Yaumal)
Hasto ensured that Jokowi and Megawai's relationship was harmonious. He quoted a statement that had been made, Jokowi said that Megawati was considered like her own mother.
Also Read: PAN Consistently Supports Erick Thohir to Become a Vice Presidential Candidate for the 2024 Presidential Election
"Jokowi also said that his relationship with Bu Mega is like mother and child, then Mas Gibran, Mas Bobby are also comfortable with the PDI Perjuangan, all out regarding the problems the government that stands in front of Jokowi is the PDI Perjuangan," he said.
"We are all moving, Mas Ganjar, Mas Bobby, have stated that because they have become part of the big PDIP family, they are available to be campaigners," Hasto continued.
The Jokowi-Megawati relationship is cracked
Well-known foreign media from Singapore, The Straits Times, published an article on Thursday (1/6/2023) about Jokowi's rift with Megawati.
The 'gossip' was written because of the declaration of the Governor of Central Java, Ganjar Pranowo, as the presidential candidate for the Bull Party on April 21.
Also Read: Ganjar's response was given Erick Thohir's name as vice presidential candidate: Mrs. Mega said there weren't many
A senior PDIP politician who declined to be named told The Straits Times about Jokowi's disappointment because Megawati was barely involved in choosing Ganjar as a presidential candidate.