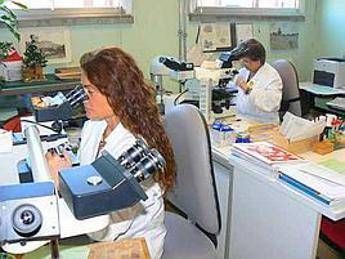 A new technique – for the measurement and characterization of specific lymphocytes, which infiltrate the intestinal mucosa – able to improve the diagnostic ability of patients with potential celiac disease, a particular subgroup of patients whose tests give serological results typical of celiac disease even if the intestinal histological picture is normal or only slightly altered, and they may or may not present clinical symptoms. This is the important result achieved by a group of researchers from the University of Naples Federico II through a research project funded by the Italian Celiac Association (Aic).
The study, published in the 'Journal of Immunological Methods' is the result of a project funded by Aic, and was conducted by Antonella Marano, Riccardo Troncone, Valentina Discepolo, Mariantonia Maglio. If further validated in clinical studies on larger cohorts of patients, this methodology – reports a note – could be used to refine the diagnostic capacity of potential celiac disease and, in general, of cases of celiac disease with difficult diagnoses.
The technique developed by the researchers starts from the observations of specific cells in duodenal biopsies, therefore it does not disregard or replace the biopsy as a diagnostic tool, but can be used to confirm the diagnosis in doubtful or difficult cases such as those of potential celiac disease. As a further promising value of the study, it should be noted that the samples collected for this type of analysis can be stored for a long time and can also be used and interrogated in the future for other purposes or studies or patient confirmations, constituting a valuable database.
"Potential celiac disease is still very difficult to diagnose and brings with it a series of aspects to be clarified such as its prevalence, clinical presentation and evolution, and above all the indications on therapeutic treatment. For this reason we are particularly satisfied with the result achieved by the research group that conducted the study funded by Aic, whose benefits for celiac patients already appear very clear", declares Rossella Valmarana, president of the Italian Celiac Association. "The great value of this methodology is that it is based on techniques already in use in various diagnostic centers, thus favoring an easy application once it is validated in subsequent clinical studies, thus allowing to improve the diagnosis of potential celiac disease and facilitate those diagnoses of celiac disease which are still particularly difficult today".