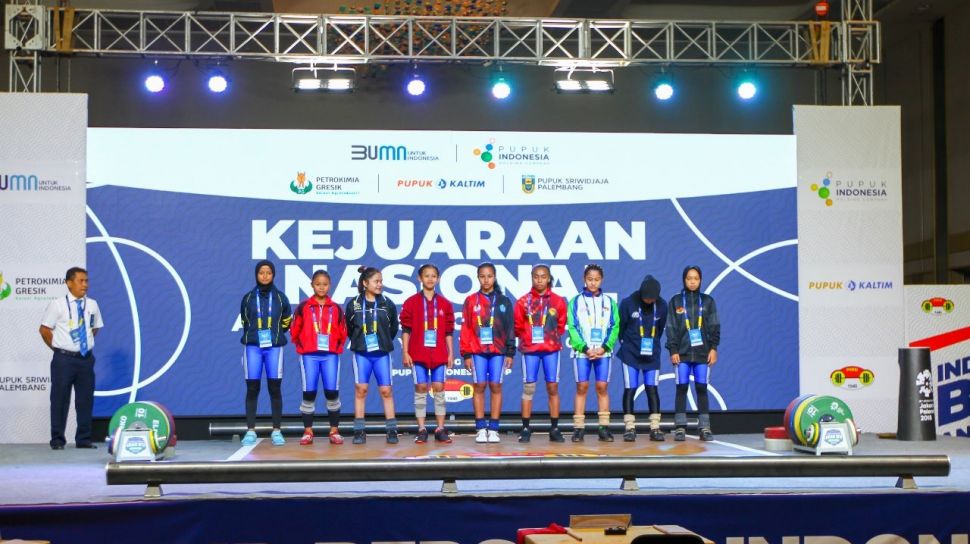 Suara.com – Supporting the development of the sport of weightlifting, Pupuk Kaltim as part of the Pupuk Indonesia Group supports the holding of the Pupuk Indonesia National Youth and Junior Weightlifting Championships 2023.
VP Marketing Business Partner Retail of Pupuk Kaltim Yusva Sulistyo said that as part of the Pupuk Indonesia Group, Pupuk Kaltim also supports the development of national athletes, especially in the field of weightlifting.
"This program is Pupuk Kaltim's form of providing support to the Pupuk Indonesia Group together with Pupuk Indonesia Group's subsidiaries, namely PT Pupuk Sriwidjaja Palembang and PT Petrokimia Gresik," he said in writing Saturday (10/6/2023).
So far, weightlifting has always been panning for gold and it has become a tradition in the numbers competed in world championships. Because of this, the development of young athletes is an important relay that must be and continues to be continued in order to make Indonesia proud on the international stage.
Also Read: Planting Mangrove with TNI Nationally, Pupuk Kaltim Distributes 10,000 Seeds
Meanwhile, Chair of the Organizing Committee for the 2023 Youth and Junior Pupuk Indonesia National Weightlifting Championships Sonny Kasiran said that this activity involved 183 athletes and 77 trainers from 27 provinces.
"From Sumatra there are 6 provinces, Java 6 provinces, Bali, NTT, NTB, Kalimantan 4 provinces, Sulawesi 1 province and Papua 2 provinces," he said.
In this championship a test was also conducted for 6 new referees. Verification of data and youth and junior athletes has been carried out so that the implementation of the national championship is expected to run smoothly.
Secretary General of the Weightlifting Board (PB PABSI) Djoko Pramono said that this championship was entering its second year assisted by the Pupuk Indonesia Group.
"We are grateful to the Pupuk Indonesia Group for helping and fully supporting this activity in order to produce potential athletes who are expected to become world champions and become athletes who win the upcoming Olympics," he said.
Also Read: Increasing Rice Productivity, Pupuk Indonesia Wins a Gold Award in Malaysia
Djoko added that the National Championship is part of long-term coaching that requires a special approach to cultivate young talents through the measurable use of sports science under the control of PB PABSI's Achievement Development section. Therefore, this activity needs a large budget support so that the implementation of the National Championship is in accordance with the expected goals.
"We are very happy and proud because of the great interest from each region as evidenced by participants from almost all regions," he said.
He added attention in every area to make potential young athletes more stretched. Djoko also hopes that the implementation of this National Championship can be continued continuously in the coming years.