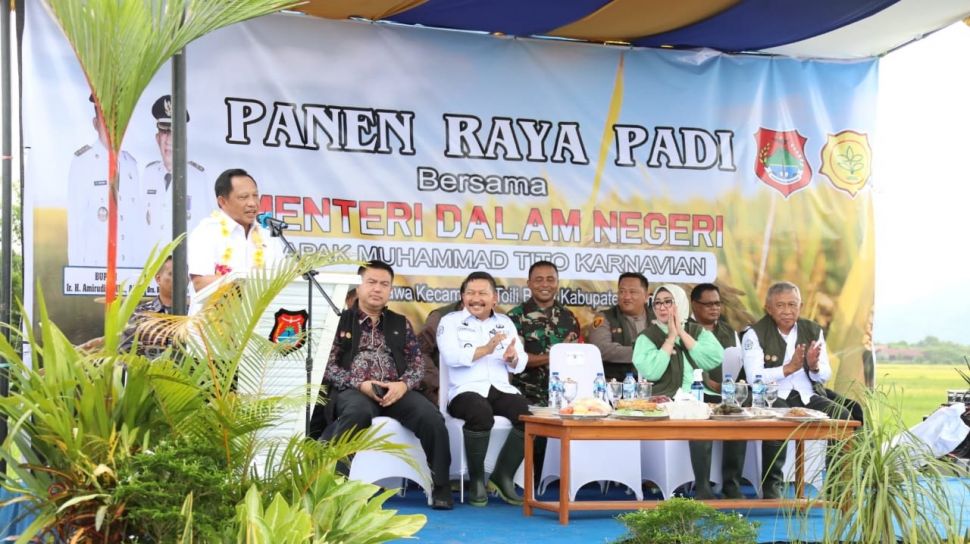 Suara.com – The Minister of Home Affairs (Mendagri), Muhammad Tito Karnavian is committed to pushing for the demand for liquefied petroleum gas (LPG) in Banggai Regency to be met. He made this statement after listening to a story from the Regent of Banggai Amirudin that his people lacked gas. Even though the area is a gas producer.
"Therefore, what was just supplied (gas needs) was more or less for 10,000 residents, 40,000 people wanted," Tito said while giving a speech at the Paddy Harvest event in Mantawa Village, West Toili District, Banggai Regency, Central Sulawesi (Central Sulawesi). , Thursday, (1/6/2023).
Tito advised Amirudin to immediately write a letter addressed to the President with copies to the Minister of Home Affairs, Minister of Energy and Mineral Resources (ESDM), Minister of State-Owned Enterprises (BUMN), Minister of Finance (Minister of Finance), and Minister of National Development Planning or Bappenas. If the letter is received, his party will immediately invite the relevant minister to attend to discuss the matter.
"Later I will chair it myself (the meeting), later the Regent will explain what his shortcomings are, and from the province we will also invite provincial representatives, thank God the vice chairman of the DPRD is also willing to attend," he said.
Also Read: Learning from Poso, Minister of Home Affairs Reminds Proud of the Importance of Maintaining Security and Order
According to Tito, as a gas-producing region, Banggai Regency should have priority on fulfillment so that the need for LPG gas is met. Only then will the rest of the gas be given to other regions.
"We have to voice this and I will voice it later, if it doesn't get through, if necessary I will go to the President to convey it," he explained.
Another issue that has received the attention of the Minister of Home Affairs is the issue of fertilizer fulfillment in the area. He directed Amirudin Regent to detail the need for fertilizer so that it was based on data. This is related to the local government's proposal to build a fertilizer production site.
"If there is ammonia here, it can be used as fertilizer, and if this fertilizer is sufficient, it will be able to meet the people's needs. This is the number. These numbers are important to me, because to convince people, they need numbers," he said.
The data is needed to be material for presentation before the relevant ministries or agencies. This is needed so that the party is sure that if a fertilizer production site is built, it will benefit the state, including the people in Banggai Regency.
Also Read: Ministry of Home Affairs: Indonesia Forward Expo & Forum 2023 Government's Efforts to Encourage Economic Recovery
"This will definitely increase employment as well as investment will definitely be profitable," he said.