David Guetta can take note of the start of Gala 11 of 'Your face sounds 10 to me'. The dj should call Merche for her concerts in Ibiza this summer because the imitation that the contestant has done of Bebe Rexha with her 'I'm good (blue)' by her has been impressive. He has turned the set into a great disco!
It is impossible to start the night higher than the way Merche has done. She has been tremendous in a number that has had it all: an impressive set design and spectacular choreography with the dancers, who have been more devilish than ever in this replica of Bebe Rexha's performance at a gala. What a contrast to the Monna Bell impersonation on the past show!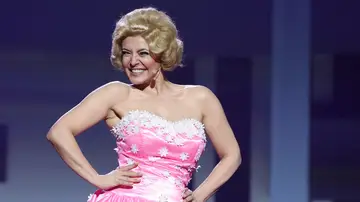 The jury has later pointed out several details that point to how well the contestant has done, starting with her voice to be identical to the artist. The other A of hers gets it for the energy she has put into it.
What a rush! Perhaps Merche should start thinking about this style even for her concerts. That is where Àngel Llàcer has proposed it. Relive this brutal performance in the video!