Six years. This generation of the Mazda CX-5 has been running for that long now. You wouldn't say it if you saw it, because there is still a crossover with a very smooth and fresh appearance. In any case, we ourselves have grown a lot older in that time. The disadvantage of a higher age, as a new car model: your technique was basically developed for other times.
Especially in 2023, now that every gram of CO2 counts and everyone would prefer to see the entire combustion engine with the bulky waste tomorrow, cars can quickly be surpassed. Or, in the Netherlands, tax-wise played out. But Mazda is on top of it: their annual (often modest) model update this time provides two mild-hybrid powertrains that should keep the CX-5 relevant in today's world.
The same engine, but just a little different
On paper, the engines look the same as before. That's because they are. The Skyactiv Gs we already know – a 2.0 with 165 hp and a 2.5 with 194 hp, both four-cylinder, both turboless – plod along unperturbed. They do, however, now receive help from that smart gimmick that generates instant emissions gains: the starter generator, which should help with both acceleration and energy recovery.
As a driver you hardly notice it. Not to say: almost nothing. The 2.5 all-wheel drive we test kicks on quite suddenly thanks to the new 24-volt electrics, but that's also the only thing you can tell from this CX-5's hybridness. There are no flashy animations showing energy flow, no buttons to ask for more or less assistance.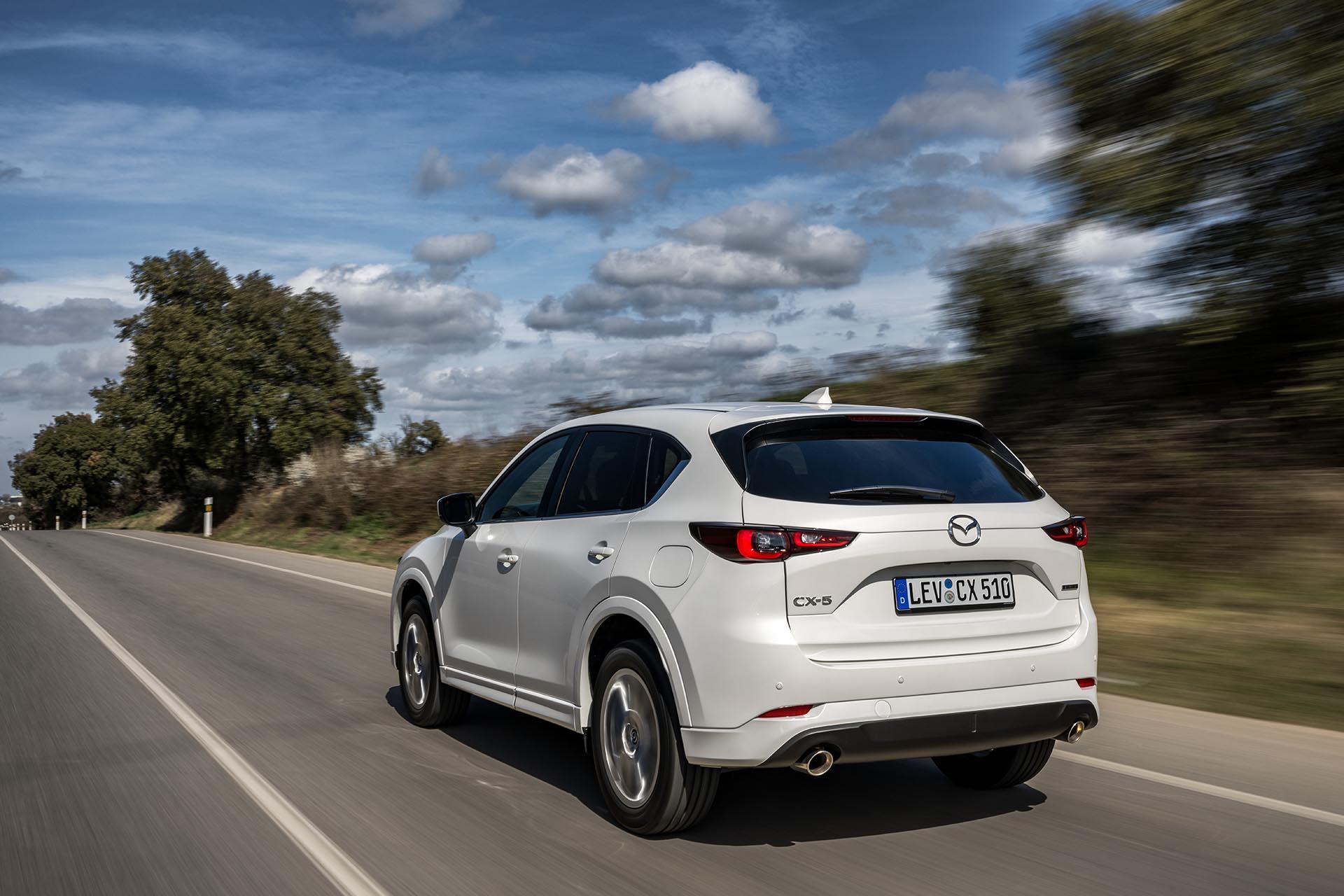 Shame? Nah, actually fine. If you want to actively drive electrically and manage battery percentages, choose a plug-in somewhere. The CX-5 is all about effortless fuel economy. Effortless and, er, minimal. The specified consumption drops for the new 2.5 AWD by 0.5 l/100 km and CO2 emissions by 13 g/km. Every bit helps, although the car is now also slightly heavier and 0.2 seconds slower from 0 to 100 km/h.
The Mazda CX-5 remains about the same price
Small talk in the margins, but what about the price? It hardly escapes that of the outgoing version. So it's not really an earth-shattering proposition, this mild-hybrid Mazda CX-5. Fortunately, the car itself is still attractive – if you have to drive a crossover, then preferably one as good-looking and pleasant to handle as this one.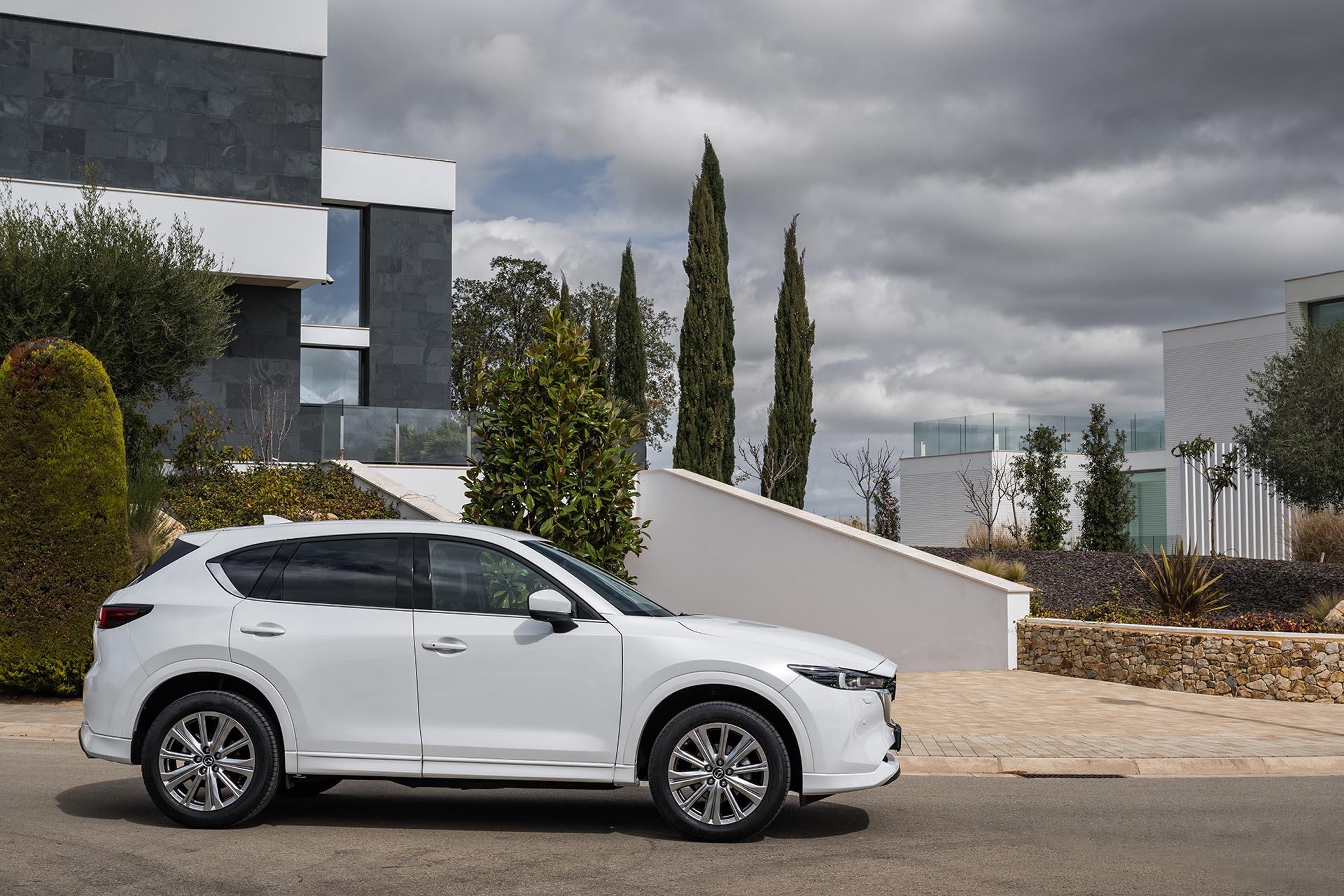 Although the engine will lack some torque for turbo addicts and will have to make a lot of whining revs with a heavy load or a steep slope, it does provide a quiet and comfortable ride in other situations. The balanced chassis fits in perfectly with this, the machine is lazy and smooth as syrup, the space on board and the perceived quality are perfectly fine.
Things click nicely and work well, and even if the infotainment screen is a little small and saturated with menus, we still prefer Mazda's dead-simple dial over a jumble of touch-sensitive tiles.
But what are you paying for that hybrid CX-5?
You also got all of the above if you bought a CX-5 without a starter generator last year. But with this update (available from 38,190 euros in the Netherlands, 32,990 euros in Belgium, for the 2.0 with manual gearbox and front-wheel drive) you can at least proudly tell your family and friends that you drive a hybrid. That 0.5 liter is a nice bonus.
Specifications of the Mazda CX-5 e-Skyactiv G 2.5 AWD Takumi (2023)
Motor
2.488 cc
four-cylinder
194 pk @ 6.000 tpm
263 Nm @ 4.000 tpm
Drive
four wheels
6v automatic
Performance
0-100 km/u in 9,5 s
top 195 km/u
Consumption (average)
7.6l/100km
171 g/km CO2 D label
Dimensions
4.575 x 1.845 x
1.685 mm (l x b x h)
2,700 mm (wheelbase)
1.732 kg
58 l (benzine)
522 / 1.395 l (luggage)
Prices
€ 59.440 (NL)
€ 47.390 (B)