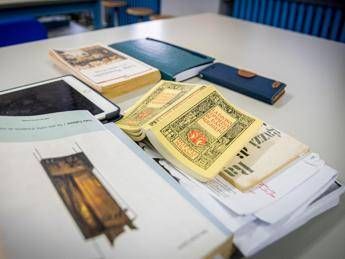 While the race towards the 2023 high school exams has begun, news and advice on the hunt for the right 'in pills' to concentrate on studying, starting with supplements, are bouncing around social networks, the web or word of mouth every year. But do they work? "Yes they are effective for concentration, attention and memory as long as they are the right ones, taken at the right time and in the right doses. And there are several: some to be taken throughout the year, others during the study period and others still only on the day of the exam". Talking about it to Adnkronos Salute is Adelia Lucattini, psychiatrist and psychoanalyst of the Italian Psychoanalytic Society, a specialist in adolescents and an expert in complementary medicine, who however warns young people: "Beware of two substances: L-Tyrosine and St. John's Wort , which can prove very dangerous."
Therefore, the expert promotes supplements which – she explains – "favor not only memory, but also attention and concentration and the well-being of neurons. I prescribe them to my patients under stress, and the final exam is a great stress. But be careful – he warns – not all are equal and not all are neutral. Most have no side effects in the psychiatric sense, i.e. they do not cause manic behaviour, they do not depress, they do not give rebound, but they must be prescribed according to the needs of the student", underlines Lucattini, recalling that "we all have deficiency syndromes because we eat refined foods, and supplements are used to fill these deficiencies".
Therefore "the first necessary and useful integration for everyone is the one based on Vitamin C which strengthens the immune system, and we know that under stress, with strong tension, such as that of those undergoing exams, cortisol is over-produced which lowers the immune defences. And then the whole group of B vitamins, obviously in the indicated therapeutic doses, no more than 1 microgram, which all students should take throughout the year".
Then there are the 'aids' to be used under examination, that is to be taken during the entire preparatory study phase. The expert advises "phospholipids, or Omega 3 but – she warns – it must be said that synthetic ones do not have the transporters that allow their absorption. Therefore, products in which Omega 3 are extracted from wild fish, phospholipids fish, also added with vitamins B5, B6 and E. This is because – explains Adelia Lucattini – in fish that is freeze-dried and then reduced to liquid form or capsules there are those transporters that make all the phospholipids absorbable. a supplement that is stimulating, tonic on the mood, which increases concentration and attention – he remarks – you have to orient yourself, looking at the technical sheet, towards those in which there is the extract of wild fish, phospholipids from fish, which are less pleasant than synthetic ones because they have a strong smell, but effective".
The expert reiterates that "they should only be taken during the period in which you are studying for the exam and suspended immediately afterwards because they are exciting. In fact, they should be taken in the morning after breakfast, and not in the evening because they disturb sleep. Therefore – another recommendation – they shouldn't be taken to stay awake, because kids have to sleep at night and study during the day".
The other category of products, recommended by the psychiatrist – to be taken only and exclusively 'as needed', i.e. on the day of the exam, as well as a competition, a conference or a test. These are "phytotherapeutics expressly studied for attention and concentration, based on extracts of turmeric, boswellia, and above all with trace elements, the fundamentals of which are zinc and selenium, as well as the vitamin B complex. They are supplements that they have an extraordinary effect – he says – because they increase attention and concentration in a 'situational' way, that is, a capsule or a vial should be taken an hour or two before the exam and they are effective for 4-5 hours".
However, the psychiatrist issues a warning to the boys struggling with their exams. "Beware of two substances: the first is L-Tyrosine, a precursor of thyroid hormones that some people cannot take, because it causes manic effects, prevents sleep and causes strong hand tremors. So I say to teenagers: take supplements, phospholipids or phytotherapeutics but beware of L-Tyrosine".
"The other substance that young people use a lot, because it is talked about on the web for its stimulating effect, is St. John's wort, which is an antidepressant. The serious problem – he warns – is that if you have any disease, you may have consequences, because it inactivates drugs such as anticoagulants, antihypertensives and the contraceptive pill itself". Hence a further recommendation: "Do not take it, but if you have done so and end up in the emergency room, you absolutely must tell the doctors that you have taken it because there are great risks to your health".
Finally, the expert reiterates: "Even to take supplements, you need to get advice from a good general practitioner, an internist and an expert specialist: if you have a problem with your nails, the dermatologist will give you the right ones, if you have a gynecological problem will be the 'women's specialist', just as if you have a problem with memory, attention or concentration do not be afraid to ask a psychiatrist for advice".
NUTRITIONIST: "RICE AND CHOCOLATE BUT NO COFFEE"
Rice for light meals and able to 'sprint' the brain. But also, secondly, pasta, better if not wholemeal. Chocolate to 'reward', passion fruit to keep calm but no coffee, alcohol or exciting drinks. Even what you bring to the table can help kids grappling with the final exam to support the commitment that "involves mind and body, with the need to focus on books and, in most cases, to keep the 'anxiety". The 'exam diet' was drawn up by Ciro Vestita, nutritionist and phytotherapist, former professor at the University of Pisa, consulted by Adnkronos Salute.
"There are highly digestible foods, which are very useful for kids – continues Vestita – first of all, rice which has a very high glycemic index and allows you to immediately have, in 20 minutes, a high source of glucose. A useful element for kids because glucose is the food of neurons and increases the speed of ideation. Risotto with seasonal vegetables is the ideal dish". Then there are "foods that are useful because they release endorphins, the molecules of happiness, which promote general well-being and are able to give serenity and energy at the same time. The first of these foods is chocolate".
To promote serenity also "the fruit of passion. A food that gives a little help to quell the anxiety typical of the exam". While stimulant substances should be avoided, "such as coffee, alcohol. Unfortunately there are many kids who are already emotionally fragile and these drinks risk triggering a vicious circle. For them, they are absolutely to be avoided. Phytotherapy can be useful for them , with products based on hawthorn and lavender, the latter being particularly useful for soothing anxiety, as shown by the most recent studies". Instead, no to heavy foods to digest such as "steaks, hamburgers, sauces, fried foods, which can be returned to the table once the exams are over".