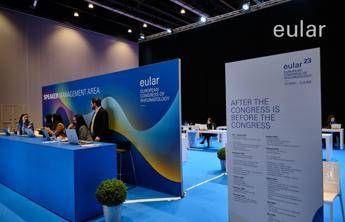 "Systemic lupus erythematosus (SLE) is an autoimmune rheumatic disease, this means that the immune system acts not only against external agents, such as bacteria and viruses, but also against organs and systems of the organism itself. It can therefore attack any organ and apparatus, and those most frequently affected are the joints, skin and kidneys.The patient with lupus risks seeing the functionality of some organs compromised, as well as the quality of life.In some more serious cases, even survival is put at risk same as the patient". This was recalled by Luca Iaccarino, associate professor of Rheumatology at the University of Padua, on the sidelines of the Eular Congress (European Congress of Rheumatology) 2023, taking place at the MiCo in Milan from 31 May to 3 June, taking stock of the treatments for Les .
The therapy that has proved to be advantageous in terms of the percentage of patients who achieve a response and in the best of cases remission is that based on biological drugs, such as belimumab, used in patients with lupus for about ten years: "In some subjects, the therapy with biological drugs, such as belimumab – explained Iaccarino – guaranteed the reduction of the accumulation of damage, i.e. the impairment of the functionality of the organs, joints, kidneys.The dermatological aspects also benefit from the therapy with biological drugs, such as skin scars.These drugs have certainly helped to improve the quality of life of these patients".
The effectiveness of therapy with biological drugs in reducing organ damage is demonstrated by the results of the Italian study 'BeRLiSS: belimumab in real life setting study', coordinated by the Padua center and which involved almost 500 patients with lupus erythematosus systemic, treated with belimumab and followed up by the 24 specialized centers present on the national territory: "This study not only confirmed the data that we had been able to see in the randomized controlled trials – concluded the professor – but it also demonstrated the ability of this drug to reduce disease exacerbations and the accumulation of damage in these patients".