Jadel has conveyed a desire for summer, the sea and enjoying… and also Álvaro de Luna. The contestant has imitated the singer and the two have performed together at the tenth gala of 'Your face sounds 10 to me' to make an 'Eternal Salt Oath'. Both have been two romantics with a rogue touch with this song full of rhythm and good vibes.
As usually happens in an 'Original and copy', Jadel has had the added pressure of singing with the artist she imitates, but also their help and complicity. Each one has been on a part of the stage in this recreation of the video clip, to end up melting into this duet with so much energy.
For the contestant, it has been a difficult exam due to the containment exercise he had to do with his voice. Álvaro's is much more whispery and with a broken point, and has managed to look very similar. Press play and enjoy this performance!
Susi Caramelo's performance was exciting, but for other reasons. She has faced a maximum risk performance at the 10th gala by imitating Marisol.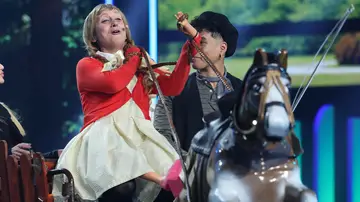 As in the movie 'A ray of light', the contestant had to ride in a car and sing 'Run, run little horse'. Fortunately, she has escaped unharmed in a hilarious number full of anecdotes.