Rosario's team starred in the last Battle of the night of 'La Voz Kids' with a great performance by Sara, Cecilia and Aleix performing 'I don't want to miss a thing'.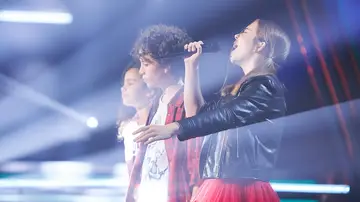 The coach, having spent a lot of time with the three small artists, has realized that they were very nervous on stage, things that happen live and that will serve as experience for their careers.
But Rosario has wanted to have a loving gesture with Sara, and it is that the song that the coach chose for the Battle "was too low for her" and she had to make a great effort to contain all the vocal power that she treasures.
"It was because of her colleagues," Rosario confessed, since the song was not going to be good if Sara did not lower her tone a bit. An effort that, at the end of the performance, he let flow to close a spectacular Battle in the best way. Relive it in the video!